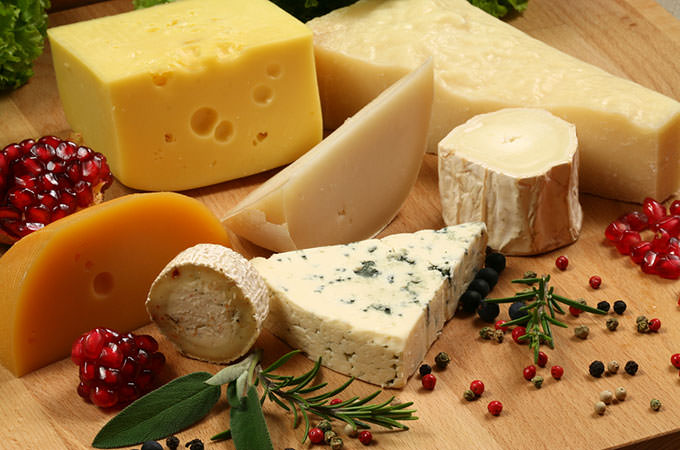 Cheese Plate
Cheese plates are a great part of any weight loss plan. You can easily assemble them at home and they are widely available in restaurants. They are typically made of an assortment of artisan or special cheeses such as Brie, Chevre, Gouda, Gorgonzola, Gruyere and Pecorino Romano.
Cheese plates are served with bread or crackers, but for weight purposes limit your nibbling to the cheese.
Cheese is packed with protein and fatty acids that aid weight loss. The protein in cheese works to make you feel full. The fatty acids in certain cheeses, like goat cheese, help your body metabolize fat. Any time you feel hungry, cheese is the food that will most quickly curb your appetite.
At home, combine cheese slices with apple wedges instead of bread for a lighter variation of the traditional cheese plate. This makes an excellent late night snack as well. The next time you're craving Doritos during your Walking Dead-athon, break out the cheese plate.
Hummus
Hummus is a Middle Eastern dish that originated back in the 13th century.
The ingredients are chick peas, sometimes called Garbanzo beans, Tahini, garlic, olive oil, cumin, and paprika.
There's no sugar and no added salt so it's also a terrific appetizer for those with hypertension or diabetes.
Hummus is traditionally served with pita chips or a flatbread variation.
But, if you're watching your weight, dip into it with broccoli rabe or parboiled baby carrots for a vitamin explosion. Hummus is packed with protein, iron, Vitamin B6 and C, and folate.
Caviar
Caviar is fish roe from certain species of fish. Descending in order of quality and price, the four main types of caviar are Beluga, Sterlet, Osetra, and Sevruga. Caviar can cost hundreds of dollars per ounce. There are caviar alternatives on the market at lower prices points, making it a viable option as an appetizer.
One tablespoon of caviar has nearly 4 grams of protein and only 0.64 grams of carbohydrates. It is extremely high in salt content, so don't overindulge.
Enjoy caviar on toast points or flatbread. If you're avoiding carbohydrates, serve atop hardboiled eggs for even more protein.
Bean dip
Bean dip can be made with almost any assortment of beans, including white beans and black beans. Within those categories, there are Cannellini beans, Anasazi beans, and more. Almost any bean can be made into a dip with varying results in taste and consistency.
Bean dips have become popular for eating with tortilla chips, but when you're watching your weight, the chips will do you in. Instead, enjoy bean dip with celery hearts or baby carrots. If you're at a restaurant, don't be shy about asking for the substitution. Almost every restaurant will have carrots and celery in the kitchen.
Shrimp Cocktail
Shrimp cocktail is an appetizer made in two ways. One is baby shrimp suspended in a cocktail sauce of ketchup, horseradish, Worcestershire sauce, lemon and Tabasco sauce.
The second way is to serve the sauce on the side and hang larger shrimps on the edge of the sauce bowl for self-serve dipping.
For weight watchers, the shrimp itself is an optimum appetizer choice. It's reportedly low in saturated fat and high in protein, zinc, Vitamin B12, antioxidants and selenium.
Selenium is a mineral that is sold in supplement form for…wait for it…weight loss.
You can make a healthier version of cocktail sauce at home without the added sugar by substituting store-bought sugar-free ketchup and combining it with the rest of the ingredients.
French Onion soup
Even if you're not watching your weight, French Onion soup is a healthy appetizer you shouldn't pass up. French Onion soup is made by sauteing onions for hours until they caramelize, which brings out their natural sweetness and smoky flavor. Butter is added for creaminess, and garlic, bay, and thyme for added layers of taste.
To top it off, a thick layer of Gruyere cheese is melted on top. This soup is chock full of protein, potassium and enough fat to keep you feeling full and energized.