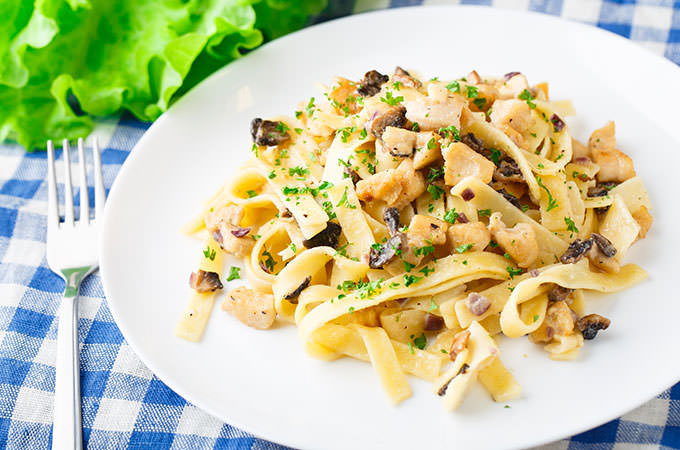 This chicken pasta meal is so delicious, you will definitely forget about all other regular and boring chicken pasta recipes.
This mouth-watering dish comes from the exotic coasts of distant Greece and it comes bearing exotic gifts.
This meal should be ready in 30 minutes, making it even more attractive for people who are always on the run.
Ingredients
16 ounce of linguine pasta
1/2 cup red onion (chopped)
1 tablespoon olive oil
15 kalamata olives (yes, this is our secret ingredient)
2 cloves garlic (crushed)
1 pound skinless, boneless chicken breast meat (chopped)
1 large tomato (chopped)
1/2 cup crumbled feta cheese
4 tablespoons chopped fresh parsley
2 teaspoons dried oregano
2 lemons (wedged)
Preparation
Cook pasta in boiling water for about 10 minutes, or until tender.
Heat the olive oil in a large skillet, over medium-high heat. Add onion and garlic, and saute for 2 minutes.
Stir in the chicken and cook for about 5 minutes. Stir occasionally.
Reduce heat to medium-low and add tomato, feta cheese, parsley, oregano, and cooked pasta. Cook the mix for about 3 minutes while stirring regularly. Remove from heat.
Finally, add our secret ingredient – fresh kalamata olives. Season to taste and garnish with lemon wedges.
Enjoy!