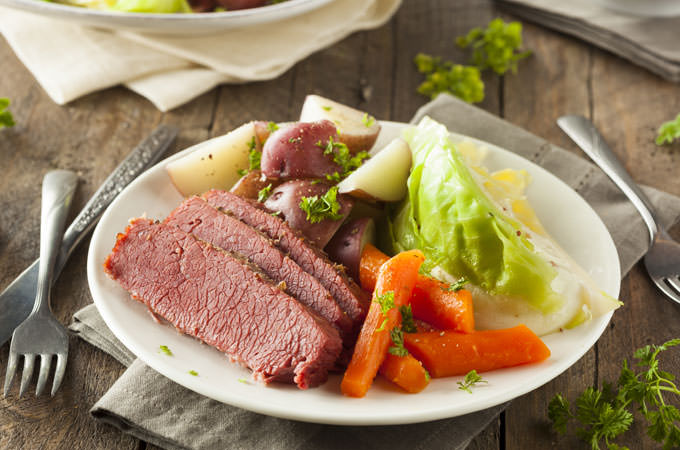 If you are planning to go full-Irish this St. Patrick's Day then you came to the right place.
Nothing is more Irish than a traditional recipe for corned beef and cabbage and that's exactly what we are giving you here.
This corned beef and cabbage recipe is simple, not exactly fast (it takes about 10 minutes to prepare but 2 hours and 35 minutes to be cooked), however it will definitely be worth your while.
Let's get crackin'!
Ingredients
3 pounds corned beef brisket (with spice packet)
10 small red potatoes
5 carrots (peeled and cut into 3-inch pieces)
1 large head cabbage (cut into small wedges)
Step By Step Preparation
Place corned beef in large pot, cover with water and add the spice packet.
Cover the pot and bring to a boil. Once it starts to boil, reduce the heat and let it simmer approximately 50 minutes per pound or until tender.
Add the potatoes and carrots, and cook until they are tender too.
Add cabbage and cook for another 15 minutes, then remove the meat and let it rest for 15 minutes.
Place potatoes and carrots in a bowl and cover. Add broth to taste and slice the meat across the grain.
Optional: use aluminum foil to keep the meal moist and to cook the meat evenly. We suggest you serve the traditional corned beef and cabbage with mustard or horseradish.
Bon Appétit!