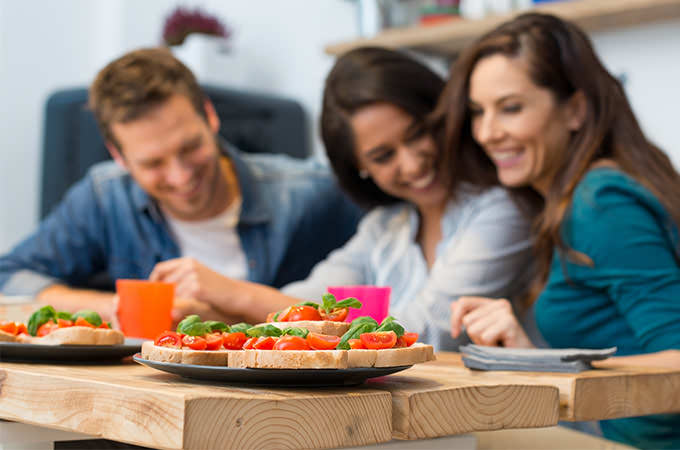 Hosting a house party usually entails lots of preparation and if you are the only person in charge of making food we would like to assist you with our wide range of ideas of hors d'oeuvres you can make yourself or buy at your local grocery store.
Our list includes both sweet and savory options and is mostly organized around finger foods you can serve all year long. Hopefully some of our suggestions make it to the finger-food platter of your next party and help you serve your guests popular and easy-to-make foods.
1. Bruschetta
Bruschetta is a bread-based toasted appetizer served as a started dish and it's perfect for parties and low-key get-togethers.
Bruschetta are topped with garlic, tomatoes and olive oil, but you can play with the ingredients as it pleases you.
You can order a few plates of bruschetta from take-out restaurants or make them yourself and amaze your guests with your hosting abilities.
Adding basil, vinegar, beans, sundried or cherry tomatoes makes bruschetta the perfect finger food, especially for hot summer garden parties.
Learn How to Make Your Own Bruschetta!
This simple Italian delicacy is served fresh with wine and is so popular you cannot go wrong with it for your party.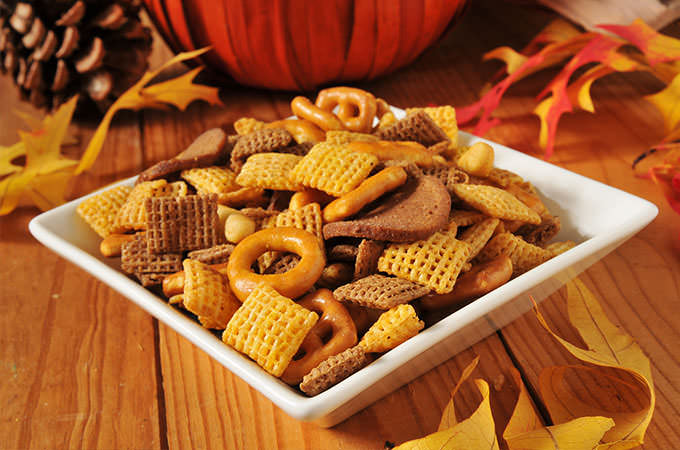 2. Snack Mix
A snack mix is a party must. Grab a cute bowl and fill it up with crackers, nuts, mini breadsticks, sprinkle some dressing on top or serve with a dipping sauce.
A snack mix can contain dried fruits, such as cranberries or raisins for a healthier version or you can make one sweet and one savory bowl and keep all the guest happy.
The sweet snack mix goes nicely with freshly squeezed juice or even ice cream in the summer, while the savory option can be served with chicken wings and cold beer.
Find Awesome Bowl for Your Snack Mix
You can also make a savory snack mix by toasting bite-sized pretzels, chips, cereal and nuts in the oven with butter to take it up a notch.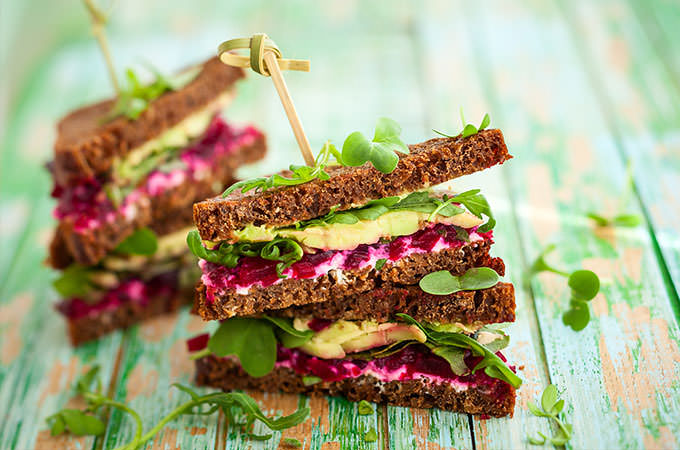 3. Bite-Sized Sandwiches
Bite-sized sandwiches are the perfect choice for both adult and kids parties and can be store-bought or prepared at home.
Make sure you buy them fresh from a recommended bakery on the day of the party to avoid any unpleasant expiration-date surprises.
If you opt to make them yourself get fresh sliced bread that you will later cut in half to a bite size and use margarine or mayonnaise as the spread.
Add veggies of your choice, such as cherry tomatoes sliced in half, olives, baby spinach and pickles.
Make Your Sandwiches Adorable with Coctail Pics
Toast the sandwiches in the oven or leave them fresh, depending on the preference of your guests and serve with fresh juice or wine.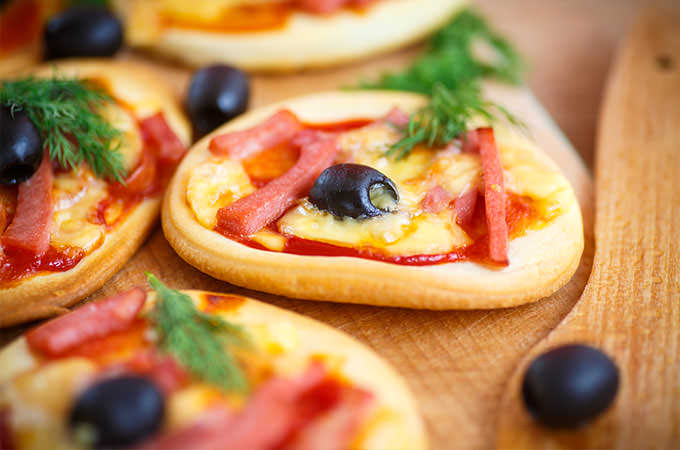 4. Mini Pizzas
Mini pizzas are another easy-to-make finger food that can be served all year long at casual house parties.
Pick up fresh dough, tomato sauce, ham, mushrooms and parsley and you've got yourself all the ingredients for a pizza you can later slice into small pieces and serve as hors d'oeuvres.
If you would rather not cook for your party, ordering catering or bakery mini pizzas is always the easier and in most cases the cheaper option.
Make Pizza Preparing Easier – Click Here!
Choose different types of toppings, from pineapple to Italian sausage and give all your guests the opportunity to find something that suits their taste. Serve warm with various drinks and provide ketchup.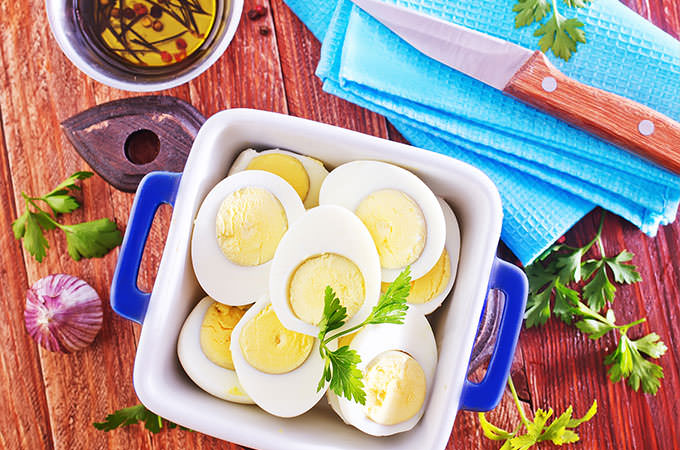 5. Hard-Boiled Eggs
Hard-boiled eggs may not seem like a particularly attractive choice of food to serve at a house party, but when cut in half vertically and decorated with sun dried tomatoes, sliced peas and parsley or basil, hard-boiled eggs can seem like quite an original yet a simple winner.
Put the eggs in cold water and bring to a boil. Remove the pan from heat and leave the eggs in the water for a few minutes.
This will make the yolk harder and easier to decorate as a finger food.
These is Perfect for Baking without Injuries!
Peeling the egg is usually the tricky part and since you want your eggs to be presentable for the party, we suggest using older eggs as they don't stick to the shells as stubbornly as the younger eggs.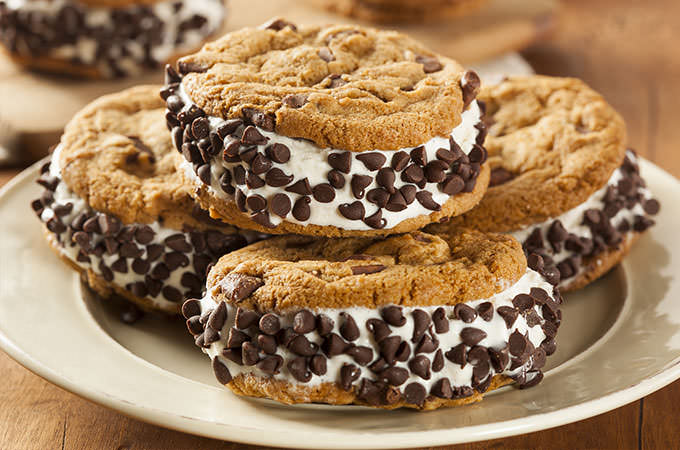 6. Chocolate Chip Cookies With Ice Cream
Chocolate chip cookies are a staple finger food that can easily be upgraded into a party favourite with an ice cream scoop in the summer or whipped cream in the winter.
The choice is yours whether you wish to roll up your sleeves and bake the cookies or even make homemade ice cream or rather just pick both up at your local grocery store.
It is advisable to purchase the products you trust and not experiment when you have people coming over, and also make sure you check the best before date so even if you get leftovers you still have plenty of time to eat them.
Every Party Needs Pretty Tablecloth – Choose Yours
Add a scoop of ice cream when each guest is ready to have a cookie and add a strawberry or grape for a touch of sophistication.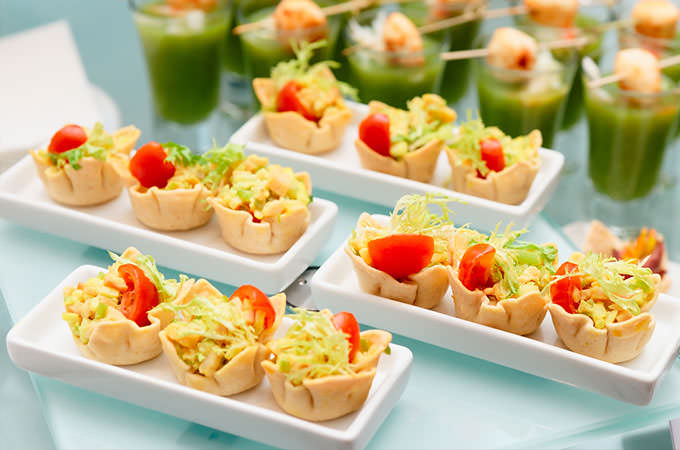 7. Mini Salad Phyllo Cups
Phyllo cups are a cute first-course or finger-food option for fancy or low key parties.
Phyllo cups can be filled with sweet or savory filling or with a salad to make it slightly healthier and refreshing.
You will need a 12-well muffin pan, 6 sheets of phyllo and butter to make a batch of 12 phyllo cups.
Put a sheet of phyllo on a cutting board and brush it with melted butter. Repeat the process by putting the next sheet on top and spreading a light layer of butter on it.
Serve Your Goodies Like a Pro!
Once all 6 sheets are arranged and buttered, cut them into 12 4×4-inch squares and place each one into a well on the muffin pan. Heat up the oven to 425°F and bake for about 10 minutes. Use feta cheese, sliced olives and cherry tomatoes to make the filling and serve warm.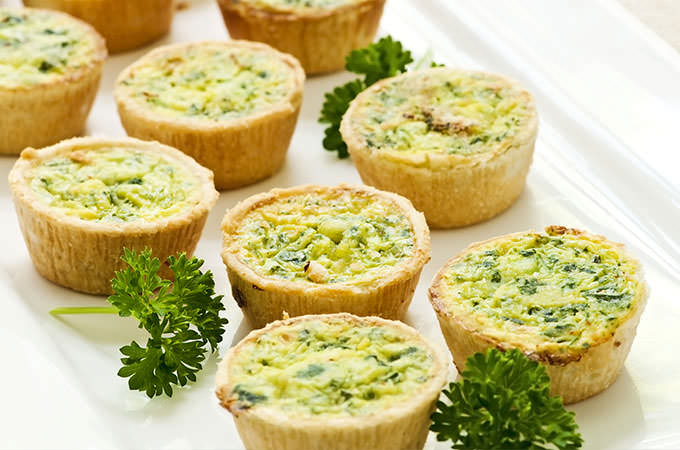 8. Mini Quiches
Whether you pick some up at a bakery or wish to do your magic in the kitchen, mini quiches make wonderful finger foods at any party.
You can make the filling using any ingredients you like, such as eggs, cheese, parsley, bacon and onion.
Sautee the onion and add bacon and once it cools down mix it with eggs, cheese bits and parsley to make the filling. Get 3 shortcrust pastry sheets and use a cookie cutter to slice off circles from each sheet.
Place each in a muffin-pan well, adding 2 teaspoons of the filling per quiche.
Your Guests are Gonna Love This!
Bake each tray for 10 minutes or until crispy and golden. This batch should yield over 30 quiches.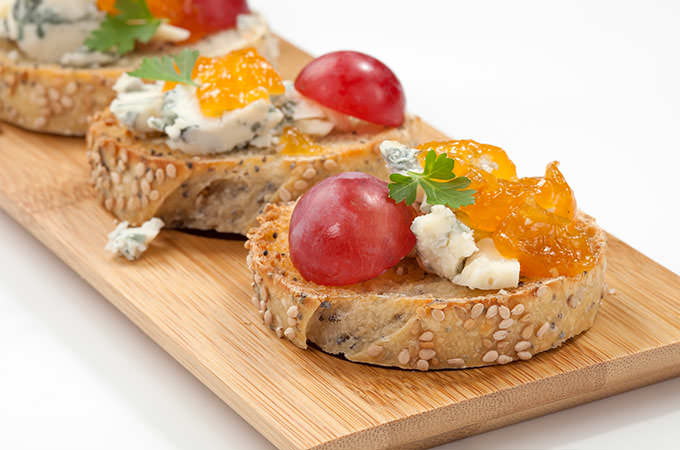 9. Crostini
Crostini is basically a sliced baguette brushed with olive oil and toasted until crispy and golden brown.
Crostini is similar to bruschetta, but it's made of white bread instead of sourdough.
Essentially, crostini can be topped off with anything, from eggs, chopped celery, parsley, cherry tomatoes, pickles and grated cheeses.
Serve as finger food at casual house parties or top off with chopped seafood or chicken bits for a more upscale crowd.
Tissue Pom Poms are Gonna be a Huge Hit on Your Party!
Slice a fresh baguette into inch-thick slices and toast for a couple of minutes. Brush off with olive oil and add the toppings of your choice. Serve warm with any kind of drink, but like any Italian food, crostini is nicely paired with wine.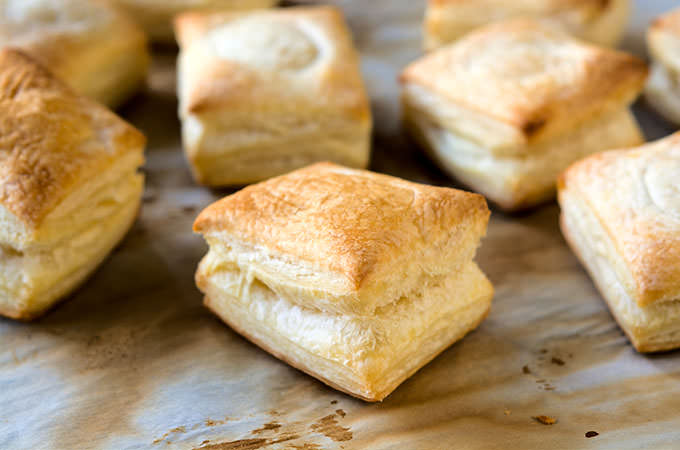 10. Cheese Squares
Cheese squares can be bought frozen, ready-made or baked from scratch at home, and make delicious finger foods to be served at parties all year long.
If bought frozen, leave to defrost at room temperature for 10-15 minutes before placing them in the oven. Bake for another 10 minutes and serve warm with sour cream or yogurt.
If, on the other hand, you wish to make them from scratch, get 1 1/2 cups of all purpose flour, 1 1/2 cups of shredded Cheddar cheese, 1/2 cup of butter and 1 teaspoon of salt.
Mix the cheese, butter and salt with a kitchen mixer at medium speed. Add flour and mix until the paste is combined. Divide the paste into 2 equal parts and flatten out with a rolling pan.
Serve Your Cheese like a Professional Chefs!
Use a glass or a cookie cutter to make the squares, preheat the oven to 350°F, place on a baking sheet and bake for 10-12 minutes.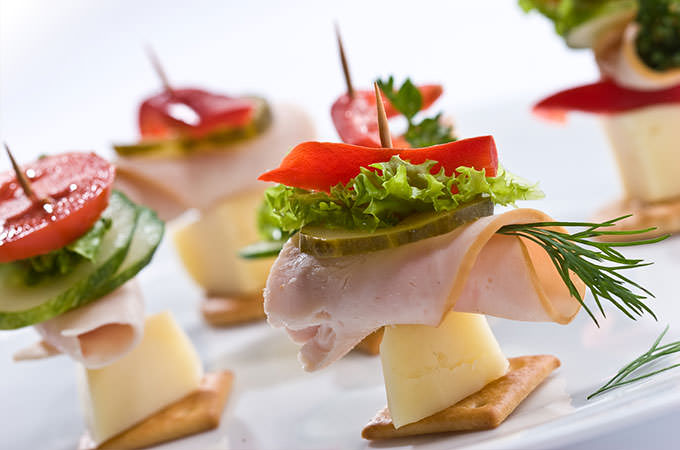 11. Ham and Cheese Bites
The beauty of finger foods you can serve at house parties lies in the variety of ingredients and presentation you can opt for.
Take ham and cheese bites you can thread on wooden or plastic skewers, for instance.
If you would like to make around 30 bites, pick up 1/4 pound of deli ham, 1/4 pound of cheese of your choice, 1/4 pound of seedless grapes and 1/4 pound of baby spinach.
Thread the foods by putting spinach first, then one grape, a sliced piece of cheese and a small folded piece of ham last.
This is A MUST for Every Party!
Serve cold on a platter decorated with green salad or baby spinach and if you would like to have more than 30 bites increase the amount of food you are using by doubling it for 60 bites, tripling it for 90 bites, and so on.
12. Brownie Balls
Most of the things on our list have been savory but we do have sweet finger food options in store for you as well.
Your guests will love our brownie balls after a mini pizza or a cheese square and you'll love them because they are super-easy to prepare by using packaged ingredients you pick up at your local supermarket.
Grab 1/3 cup of applesauce, 1/4 cup of egg substitute, 1 tablespoon of water and 1 package of double fudge brownie mix. Make sure you have cooking spray and toasted walnut pieces.
Surprise Your Guests with Awesome Decoration!
Stir the first four ingredients together, spread the paste onto a baking pan and spray with cooking spray. Preheat the oven to 350°F and bake for 30 minutes. When done, leave it to cool and then shape the paste into balls, rolling them in walnuts.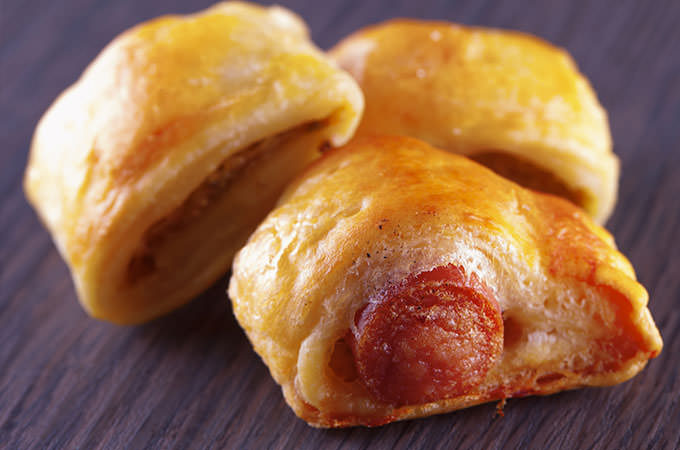 13. Hot Dog Puffs
Hot dog puffs might not be the most original, but they are certainly one of the most popular finger foods you can serve at your party.
You will need 1 thawed package of frozen puff pastry sheets, 1 package of sliced pre-cooked hot dogs, 1 egg and 1/2 cup of sour cream.
Sprinkle flour on your work surface and place 1 pastry sheet on it. Cut as many squares as you can and place a sliced hot dog in the middle of each square.
Repeat for the remaining sheets and hot dogs, brush them with the egg, preheat the oven to 400°F and bake for 20 minutes.
Find Perfect Supplies for Your Kids' Party!
Serve warm with sour cream on the side any time of the year for any sort of house party.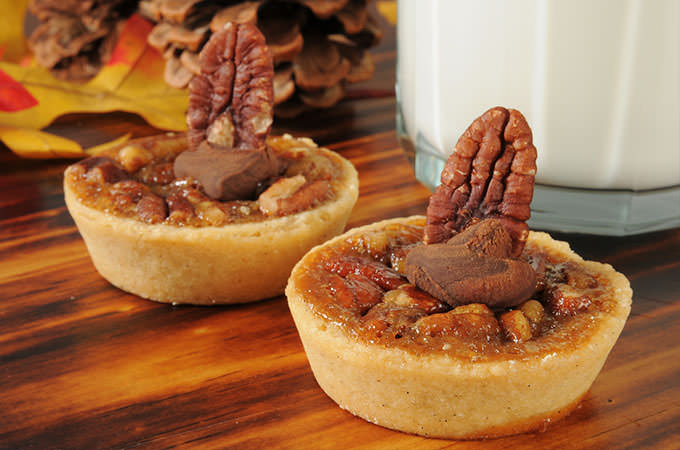 14. Pecan Mini Tarts
Another sweet option on our finger food menu, pecan mini tarts are an easy-to-bake, delicious choice that is sure to please your guests and make for tasty leftovers the next day if need be.
To make the pecan mini tarts, you will need 1 cup of sugar, 1/4 cup of melted butter, 2 beaten eggs, 1/2 teaspoon of ground nutmeg and ground cinnamon, 1 cup of chopped, toasted pecans and 3 packages of mini phyllo tarts.
Stir the first six ingredients together and fill each tart evenly with the filling you get.
Let Your Tart Shine Bright Like a Diamond
Preheat the oven to 325°F and bake for 20 minutes or until golden brown. Serve warm with a scoop of ice cream on the side in the summer or whipped cream in the winter.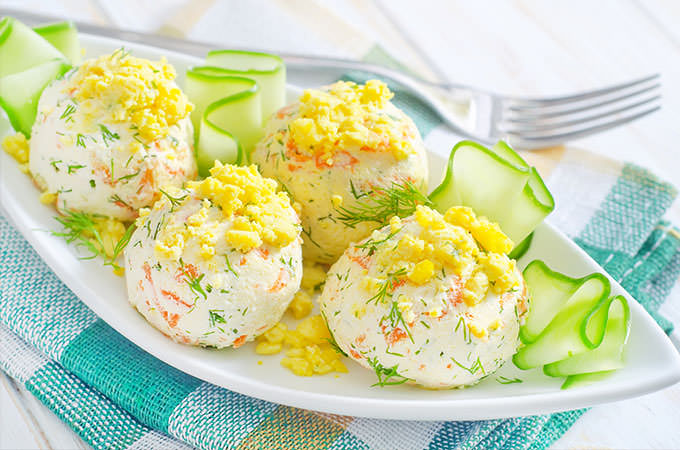 15. Cheese Balls
Cheese balls are probably the easiest party finger food to make on this list or can be store-bought depending on the amount of cooking time you allot for your house gathering.
If you decide to make the cheese balls, pick up some goat cheese that you shape into mini balls and refrigerate for 24 hours before the party.
If you would like to roll the cheese balls into different toppings, do that 1 hour before the party and choose from grinded green peas, bread crumbs or even parmesan.
Every Successful Party Must Have Ballloons, Right?
Serve cold on a platter with sprinkled parsley, decorated with sun dried or halved cherry tomatoes.