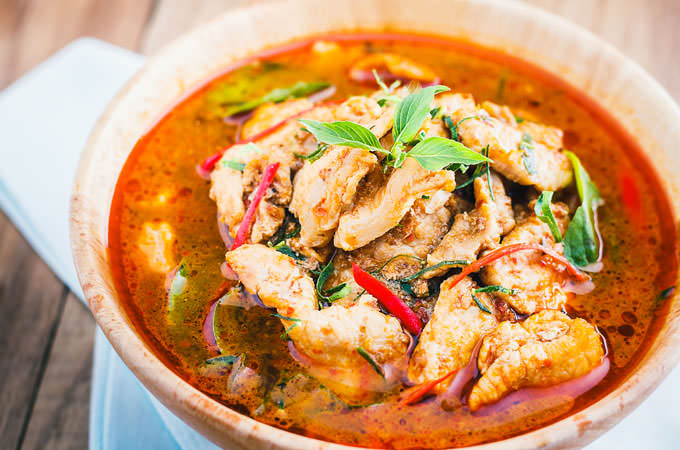 Coconut combined with chicken… in a soup? Why not! This deliciously amazing dish is the perfect thing for warming up cold bones during long winter days, and for boosting your body with some yummy healthy nutrients.
The soothing, easy taste of coconut tames the spicy heat in this delish spicy Thai coconut chicken soup, and by doing so creates a perfect harmonious taste odyssey in your mouth.
Ingredients
To make this soup, you'll need:
2 teaspoons of canola oil
1 cup of sliced mushrooms
½ cup of chopped red bell peppers
4 teaspoons of minced and peeled fresh ginger
4 garlic cloves, minced
1 stalk of lemongrass, halved lengthwise
2 teaspoons of ground fresh chili paste
3 cups of chicken stock or fat-free, lower-sodium chicken broth
1 ¼ cups of light coconut milk
4 teaspoons of fish sauce
1 tablespoon of sugar
2 cups of shredded cooked chicken breast
½ cup of green onion strips
3 tablespoons of chopped fresh cilantro
2 tablespoons of fresh lime juice
Preparation
Heat a Dutch oven over medium heat, add oil to it, and swirl the oil so it coats the pan.
Add the mushrooms, bell peppers, ginger, garlic, and lemon grass into the pan, and cook everything for 3 minutes, while stirring occasionally.
Add the chili paste, and cook everything for 1 more minute, before adding the chicken stock, coconut milk, fish sauce, and sugar.
Bring everything to a simmer, reduce the heat to low, and let it simmer for 10 more minutes. Add the chicken to the pan, and cook everything once again for 1 more minute (or until the chicken is thoroughly heated). Discard the lemongrass, and top the soup off with onions, cilantro, and juice.