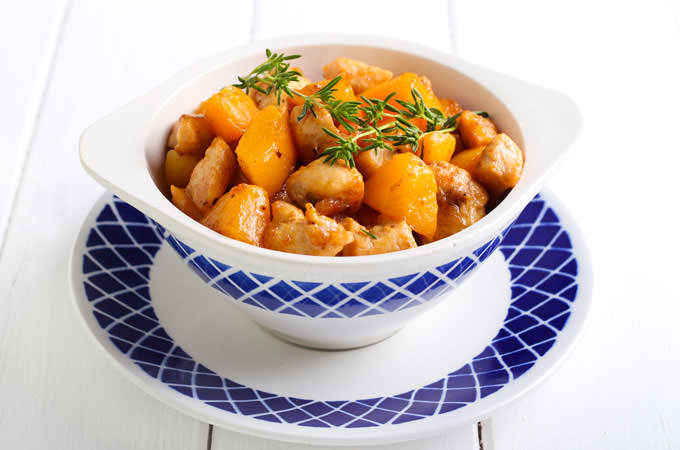 If you're in the mood for eating something that has history to it, something that has been around since forever, you might want to consider making this delicious meal. This apricot-basil freekeh chicken recipe will take your winter blues away with just one bite!
Freekeh, an ancient wheat variety, grants the savory chicken with a fantastically nutty, smoky flavor that could never be mistaken for any other dish. In the same time, the apricots will provide a sweet kick to your taste buds, and it all comes together perfectly with the subtle hint of basil. Don't waste any time – start cooking now!
Ingredients
To make this amazing dish, you'll need:
1 ½ cups of water
1 ¼ cups of unsalted chicken stock, divided
1 cup of freekeh
¾ teaspoon of kosher salt, divided
½ teaspoon of black pepper, divided
½ cup of dried apricots, chopped
4 skinless, boneless chicken thighs
1 tablespoon of olive oil
½ cup of dry Marsala wine
1 tablespoon of butter
¼ cup of thinly sliced fresh basil
Preparation
Combine the water, 1 cup of stock, freekeh, 3/8 teaspoon of salt, and ¼ teaspoon of pepper in a medium saucepan, and bring everything to a boil. Cover the pan, and reduce the heat to medium before letting the mix simmer for 18 minutes (or until everything is tender).
Combine the remaining ¼ cup of stock, the wine, and apricots in a small bowl.
Sprinkle the chicken with the remaining 3/8 teaspoon of salt and the ¼ teaspoon of pepper, and get a large nonstick skillet.
Heat the skillet over medium-high heat, add oil to it, and swirl the oil to coat the pan.
Cook the chicken in the pan for 7 minutes (or until the desired degree of doneness has been reached), but make sure to turn it over once.
Add the apricot mix into the pan and cook everything for 2 more minutes. Stir in the butter, and remove the pan from the heat. Place about ¾ cup of freekeh mixture into each shallow serving bowl, and top each serving with 1 chicken thigh. Divide the sauce evenly among the servings and sprinkle each serving with basil.