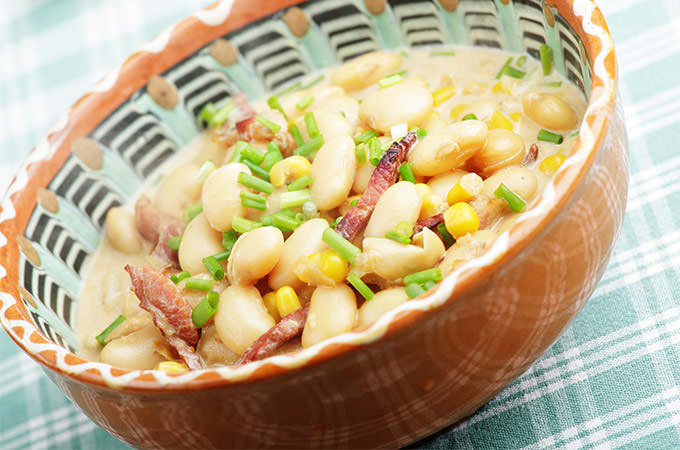 If someone were to ask you to think of a soup perfect for everyone's favorite season, the odds are you would probably think of a soup that contains corn and beans.
This fiber-packed meal is perfect for long, too-hot-to-stand days, when you know you have to eat something but you just can't find the appetite in you. It's healthy, quick and easy to make, and absolutely delicious!
The nutrients in this soup will keep you going for hours, however, since it's very light you won't have that overwhelming feeling of stuffiness.
Ingredients
To make this corn, ham, and bean soup, you'll need:
1 tablespoon of canola oil
1 cup of sliced green onions
¾ cup of chopped cooked ham
3 cups of fresh corn kernels
½ teaspoon of salt
2 cans of navy beans, rinsed and drained
2 cans of fat-free, less-sodium chicken broth
2 cans of chopped green chili, undrained
Preparation
Heat the canola oil in a Dutch oven over medium-high heat. Add the onions and the ham to the pan, and cook the mixture for 3 minutes while stirring frequently.
When the 3 minutes have passed, toss in the corn, salt, beans, chicken broth and chili, and stir everything well.
Bring this mixture to a boil, and then reduce the heat, and let it simmer for 5 minutes or until you think that the soup is thoroughly heated.