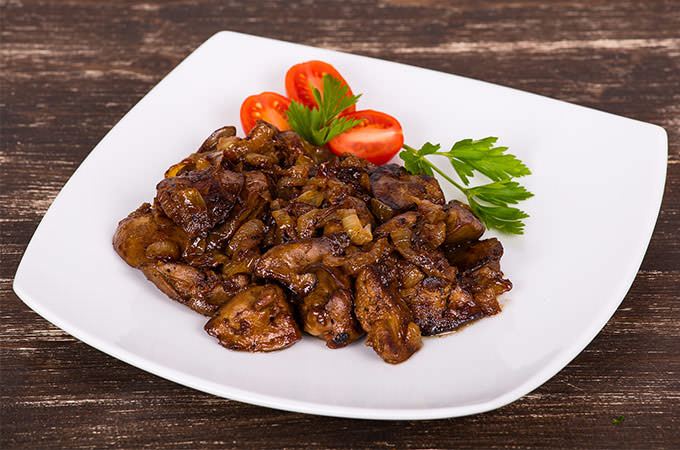 When hunger comes knocking, the best thing to do is to invite it for dinner. However, sometimes even appetizers can do the trick, especially nutritional and delicious ones.
This amazing grilled ginger-glazed chicken liver dish, paired with a spicy plum sauce, may be the best thing that happened to your taste buds in a while.
The epic richness of chicken livers gets complimented perfectly by the Southeast Asian-inspired sauce. This unlikely pair makes the perfect, health, easy and quick to make match.
Ingredients
To make this distinguished meal, you'll need:
½ cup of water
3 tablespoons of rice vinegar
1 tablespoon of sugar
1 tablespoon of hot chili sauce
4 plums, pitted and quartered
1 star anise
1 cinnamon stick
½ cup of mirin
1 ½ tablespoons of minced peeled fresh ginger
1 tablespoon of lower-sodium soy sauce
2 garlic cloves, minced
1 pound of chicken livers
½ English cucumber, thinly sliced
Preparation
Combine the water, rice vinegar, sugar, chili sauce, plums, star anise, and cinnamon stick in a saucepan and cook the mix. Bring it to a boil, cover the pan, and let it cook for 15 minutes or until the plums are tender. Discard the star anise and cinnamon, and let the mix cool completely.
Place the mix in a blender and process it until it's totally smooth. Combine the mirin, ginger, soy sauce, and garlic in a saucepan over medium heat, and bring this mix to a simmer. Cook this mix for 4 minutes or until it has reduced in volume to ¼ of a cup. Take the chicken livers and trim the excess fat and connective tissue from it.
Separate the livers into lobes, and pat every lobe dry with paper towels. Take a grill pan and heat it over high heat before coating it with cooking spray. Add half of the livers to the pan and cook them for 7 minutes or until they are slightly firm, while turning them all once. Remove the livers from the pan and brush them with half of the glaze.
Repeat the procedure with the remaining lobes. Serve the chicken livers with the plum sauce and cucumber.
Enjoy!