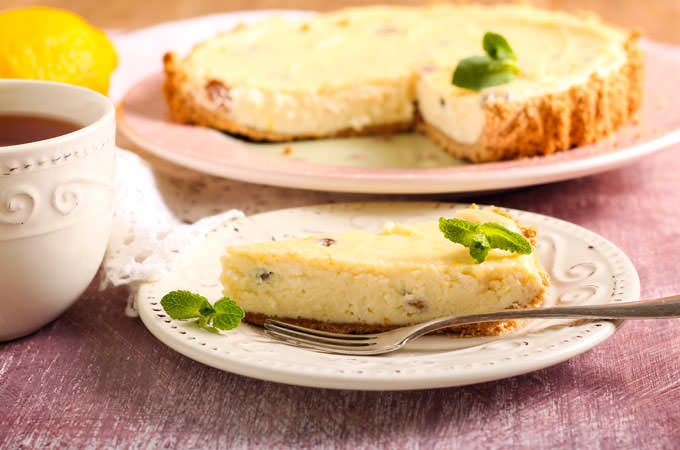 Let's be honest here – we all love cake. There's nothing more satisfying as having a slice of a low-calorie, delicious cake.
Even those who are on a diet can enjoy it, as long as it is made with the right ingredients.
Speaking of healthy cakes, today we wanted to share a recipe for coconut and lemon cheesecake.
It's sweet and sour at the same time, and you can rest assured that it won't broaden your waistline.
A Tangy Bite
This coconut and lemon cheesecake takes about 30 minutes to complete. Keep in mind that it needs to be left in the fridge overnight, so make sure you prepare it at least one day before your guests arrive.
Ingredients
2 cups of macadamias
½ of shredded coconut
Zest of ½ lemon
4 tablespoons of coconut oil
12 dates
3 cups of raw cashews
1 cup of coconut milk
¼ cup of honey
Juice of 1 lemon
Visit Amazon and check out the most popular Food Processors
Preparation
Grease the base and sides of the springform pan with coconut oil. Process nuts and coconut in a food processor until they become crumbly, and add 1 tablespoon of coconut oil and lemon zest to the mix.
Add dates to the crumble and process until there are no more large chunks. When done, press the mixture down evenly into the base of the pan, then place in the freezer.
Blend 3 tablespoons of coconut oil, cashews, coconut milk, honey, and lemon juice until the mixture is smooth.
Remove the base from the freezes and top it with the coconut lemon filling. Place the completed cheesecake back into the freezer and leave it there for 6-8 hours.
Once your cheesecake has been properly chilled, slice it up and serve it.
Enjoy!