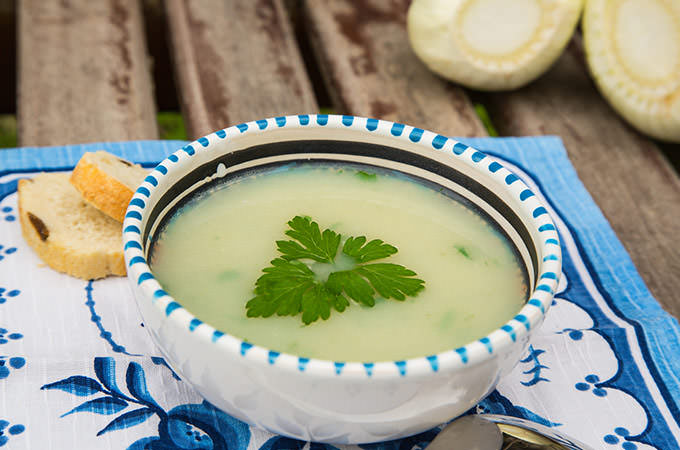 Dying for a soup that has a rich texture, while also leaving a silky, amazing aftertaste on your taste buds? Look no further than from this wonderful fennel soup with almond-mint topping that can warm you up while refreshing you at the same time. Energizing and light, a bowl of this delish soup will fuel you up for hours, and help you get through a harsh, winter's day.
Ingredients
To make this meal, you'll need:
5 teaspoons of olive oil, divided
3 cups of sliced fennel bulb
1 cup of chopped onion
3 minced garlic cloves
½ teaspoon of kosher salt, divided
2 ½ cups of water
½ teaspoon of white wine vinegar
1 can of cannellini beans, rinsed and drained
½ cup of toasted sliced almonds
3 tablespoons of small fresh mint leaves
1 teaspoon of lemon rind strips
1 ounce of vegetarian Parmesan cheese, finely shredded
Preparation
Heat a Dutch oven over medium heat and add 1 tablespoon of olive oil to it, and swirl it so it coats the pan. Add the fennel, onion, garlic, and ¼ teaspoon of salt, and cook everything for 1 minute.
Reduce the heat to medium-low, cover the pan, and let it cook for 6 minutes or until the mix is crisp-tender (but not brown).
Stir the mix occasionally while it cooks. Add the remaining ¼ teaspoons of salt, 2 ½ cups of water, vinegar, and beans, and bring the mixture to a boil. Cover the pan, reduce the heat, and let it simmer for 10 minutes.
Secure the blander lid on the blender, and place a clean towel over the opening in the lid to avoid splatters.
Blend the mixture until it's smooth, and pour it into a large bowl. Repeat the procedure with the remaining mixture. Combine the almonds, mint, rind, and cheese. Divide the soup among 4 bowls and top each bowl with the almond mixture. To finish it off, drizzle the remaining 2 teaspoons of olive oil onto the soup.