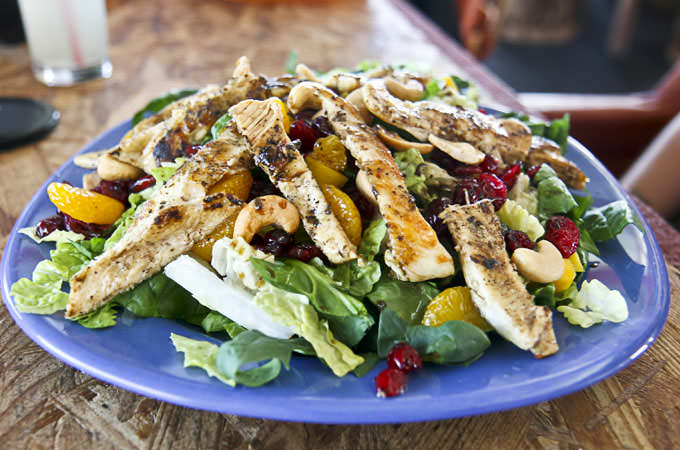 Who's in the mood for a crunchy, light, delicious salad? We know we are, and you will be too right after you see just how easy it is to make this wonderful mid-day dish. There's no way you could ever resist the epic taste and nutrient-packed existence of this cool meal. If there is a dish in our majestic world that deserves to be called laid-back, this is definitely it.
Ingredients
To make this easy, healthy blueberry chicken salad, you'll need
½ cup of thinly vertically sliced red onion
1/3 cup of diced celery
¼ cup of torn fresh basil
12 ounces of shredded, skinless, boneless rotisserie chicken
½ teaspoon of kosher salt, divided
½ cup of plain reduced-fat Greek yogurt
2 ½ tablespoons of fresh lemon juice, divided
1 tablespoon of honey
2 cups of fresh blueberries
1 package of baby arugula
2 teaspoons of extra-virgin olive oil
¼ teaspoon of freshly ground black pepper
Preparation
Combine the onion, celery, basil, and chicken in a medium bowl, and sprinkle the mix with ¼ teaspoon of salt.
Then combine the yogurt, 1 tablespoon of lemon juice, and honey in a small bowl, and stir it well with a whisk.
Add the yogurt mixture to the chicken mixture, and toss it well so it coats before gently stirring in the blueberries.
Place the arugula, 1 ½ tablespoons of lemon juice, oil, ¼ teaspoon of salt, and pepper in a bowl, and again, toss well to coat.
Divide the arugula mixture evenly among 6 plates, and top each serving with about ¾ cup of chicken mixture.
Enjoy!