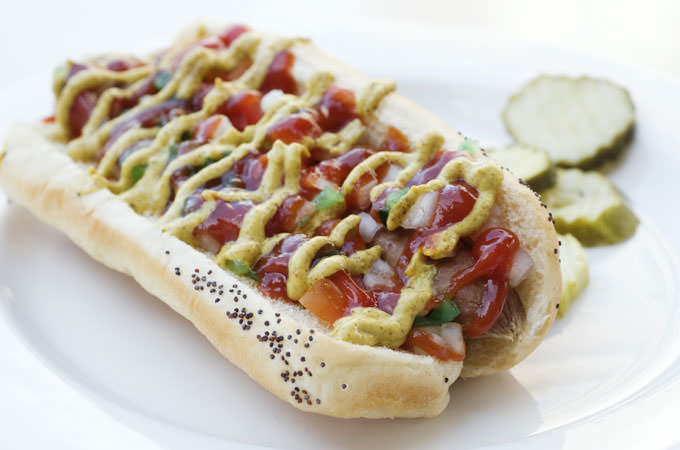 Imagine all of your favorite nature's summer treats combined with the simplicity and epic taste of the average hot dog.
Who could ever say no to this kind of snack?
When hot days come knocking and your appetite is nowhere t be found, we advice luring it out with the smell of this amazingly light meal, packed with healthy nutrients and excitement for your taste buds.
Made in no time, this easily prepared dish is a healthy homage version of the notorious Chicago "run through the garden" hot dog.
Ingredients
To make summer garden's hot dogs, you'll need:
7 hot dog buns
2 quarts of water
7 97% fat-free beef franks
1 cup of finely diced white onion
1 cup of diced tomato
½ cup of sweet pickle relish
½ cup of prepared mustard
14 sport peppers
Preparation
Preheat the oven to 350°, and in that same temperature bake the buns (previously wrapped in foil) for 10 minutes, or until they are thoroughly heated. Remove the buns from the oven and keep them warm.
Pour 2 quarts of water in a large saucepan and bring the water to a boil. Add the franks, and let them simmer for 5 minutes or until they are thoroughly heated. Drain the franks well, and place 1 frank in each heated bun.
Top each frank with 2 tablespoons of onion, 2 tablespoons of tomato, 1 tablespoon of relish, and 2 teaspoons of mustard. Serve the hot dogs with peppers.