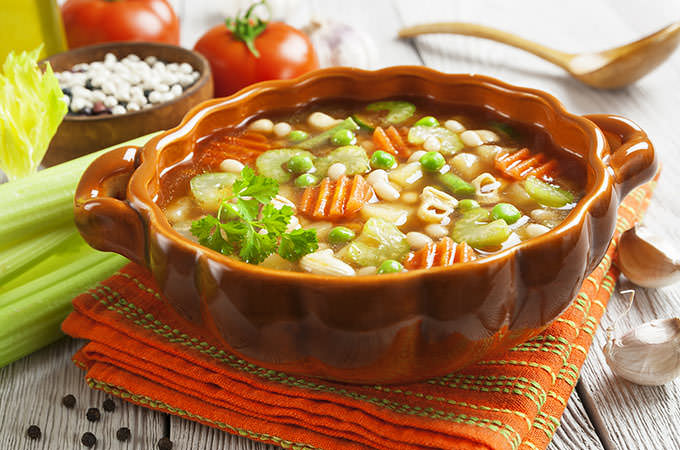 Who doesn't love Italian food, especially Italian or Italian-inspired soups?
There's nothing quite like them, as they're light, nutrition-packed, and absolutely delish!
Made in under an hour, this saturating pasta fagioli soup is easy to make and it will definitely be the highlight of your day.
To make this amazing soup, you'll need 1 tablespoon of olive oil; 2 chopped stalks of celery; 1 chopped onion, 3 minced cloves of garlic; 2 teaspoons of dried parsley; 1 teaspoon of Italian seasoning; ¼ teaspoon of crushed red pepper flakes; salt (to taste); 1 can of chicken broth; 2 medium chopped and peeled tomatoes; 1 can of tomato sauce; ½ cup of uncooked spinach pasta; and 1 can of cannellini beans (with the liquid).
Pour the oil in a large saucepan, and heat it over medium heat, before tossing in the celery, garlic, onion, parsley, Italian seasoning, red pepper flakes, and salt in it.
Cook this mix until the onion is translucent, which will take about 5 minutes. Stir in the chicken broth, tomatoes, and tomato sauce, and let everything simmer on low for 15 to 20 minutes. Add the pasta in the mix, and cook everything for another 10 minutes (or until the pasta is tender). Add the untrained beans in the mixture, and stir everything really well. Heat the whole thing really good, and serve the soup with grated Parmesan cheese sprinkled on top.