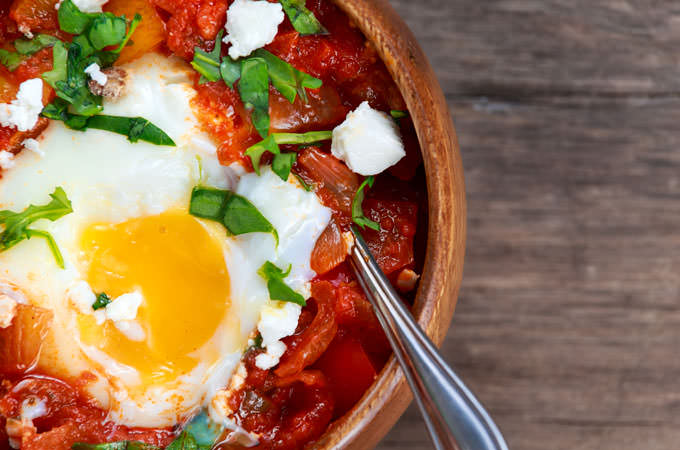 If you don't have time to eat breakfast (although you really should find some), you should at least take full advantage of brunch. The perfectly designed mealtime, which has dinner running for its money when it comes to popularity, is definitely the perfect choice for trying out this amazing recipe!
Poached eggs in tomato sauce, complimented by garlic cheese toasts, is a meal that shouldn't be taken lightly for anything except its preparation, cooking time, and the effort you need to put into making the dish. Delicious, healthy, and energy-boosting, this meal is a wonderful choice for refueling your body.
Ingredients
To make this dish, you'll need:
1 tablespoon of extra-virgin olive oil
1 cup of chopped onion
3 minced garlic cloves
3 tablespoons of tomato paste
1/3 cup of dry red wine
1 teaspoon of sugar
½ teaspoon of kosher salt
¼ teaspoon of freshly ground black pepper
½ teaspoon of ground Aleppo pepper (or crushed red pepper)
1 can of unsalted petite diced tomatoes
4 large eggs
4 slices of sourdough bread
1 halved garlic clove
2 ounces of shredded part-skim mozzarella cheese
Preparation
Preheat a broiler to high heat, and heat a medium nonstick skillet over medium-high heat. Add the oil to the pan, and swirl it around to coat before adding the onion and minced garlic into it. Mix the onion and the garlic for 4 minutes, then add the tomato paste, and cook everything for 1 minute while stirring constantly.
Add the wine, cook the mix for 1 more minute (or until the liquid almost evaporates), and add the sugar, salt, peppers, and tomatoes.
Cover the pan, reduce the heat to medium, and let the mix simmer for 2 minutes.
Crack the eggs on top of the mixture, cover the pan again, and let everything cook as it is for 5 minutes (or until the egg whites are set and the yolks are soft).
To make the garlic cheese toasts, place the bread slices on a baking sheet and broil them for 1 ½ minute on each side (or until they're toasted).
Rub each bread slice with the halved garlic clove, and sprinkle 2 tablespoons of cheese on each bread slice. Broil the slices for another 1 ½ minute or until the cheese melts. Divide the tomato mixture and the eggs evenly among 4 shallow bowls, and serve the mix with the garlic bread.