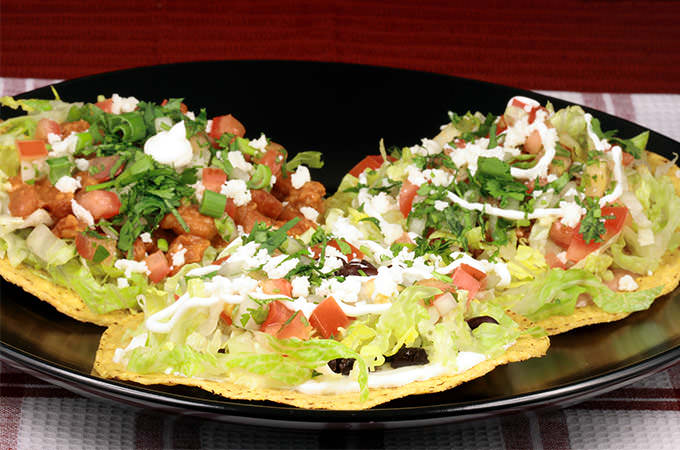 Lunching will never be the same again after you've tasted the amazingly delicious chicken and summer vegetable tostadas!
This easy to make, healthy meal only gets better if served with black beans and a nice glass of white wine.
It's perfect for a gathering of family and friends, and the kids absolutely love it as well! There will be no picky eaters when this scrumptious dish gets served on the table!
Dazzle your guest with a light meal option in almost no time!
Ingredients
To make summer chicken tostadas, you'll need:
2 teaspoons of canola oil
1 teaspoon of ground cumin
¼ teaspoon of kosher salt
¼ teaspoon of black pepper
12 ounces of chicken breast tenders
1 cup of chopped red onion
1 cup of fresh corn kernels
1 cup of chopped zucchini
½ cup of salsa verde
3 tablespoons of chopped fresh cilantro
4 fat-free flour tortillas
3 ounces of shredded Monterey Jack cheese
Preparation
Preheat the broiler, and combine the canola oil, cumin and salt, while stirring well. Heat the oil spice mixture in a large nonstick skillet over medium-high heat and sprinkle it evenly over the chicken. Add the chicken to the pan, and sauté it for 3 minutes before you add in the onion, corn, and zucchini to the pan.
Sauté everything for 2 minutes or until the chicken is done. Stir in the salsa and 2 tablespoons of cilantro, and cook everything for 2 more minutes (or until the liquid almost evaporates), while stirring frequently. Arrange the tortillas in a single layer on a baking sheet, and lightly coat them with cooking spray. Broil the tortillas for 3 minutes or until they have slightly browned.
Spoon about ¾ cup of chicken mixture in the center of each tortilla and sprinkle each serving with ¼ cup of cheese. Broil the packed tortillas for 2 more minutes (or until the cheese melts).
Repeat the procedure with the remaining ingredients. Sprinkle each serving with ¾ teaspoons of the remaining cilantro, and serve the tostadas immediately while they are still warm.