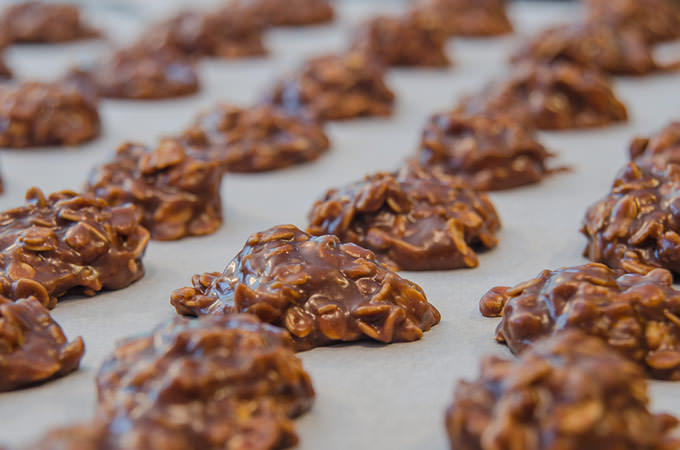 If you are looking for a new healthy way to satisfy your chocolate fix, look no further! Here we have an ultimate no-bake cookies recipe that will tickle your taste buds like there's no tomorrow.
Christmas is all about delicious foods, but if you also want to stay healthy and have balanced diet, you need to go that extra mile.
This is where these easy-to-make no-bake chocolate fudge cookies come in!
They will become your perfect solution when a chocolate craving strikes!
Ingredients
3 Tbsp virgin coconut oil
2 Tbsp sunflower seed butter
1/4 cup unsweetened cocoa powder
1/4 cup pure maple syrup
1 teaspoon pure vanilla extract
7 Tbsp gluten-free rolled oats
6 Tbsp unsweetened shredded coconut
2 Tbsp chia seeds
1/8 teaspoon fine sea salt, or to taste
Step-By-Step Preparation
Line a large plate with parchment paper. Set aside.
Melt the coconut oil in a medium pot over low heat. Add the sunflower seed butter, cocoa powder, and maple syrup. Whisk until smooth.
Remove the pot from the heat and whisk in the vanilla.
Add the oats, coconut, chia seeds, and salt into the pot. Stir until combined. The mixture should be dense, oily, and gel-like.
Using a retractable ice cream scoop (or a spoon), scoop the dough and place the mound onto the plate. Make sure to leave a bit of space between each cookie.
Place the cookies in the freezer to set until firm (typically 15 minutes). You cans also put them in the fridge if you have the time.
Bon Appetit!