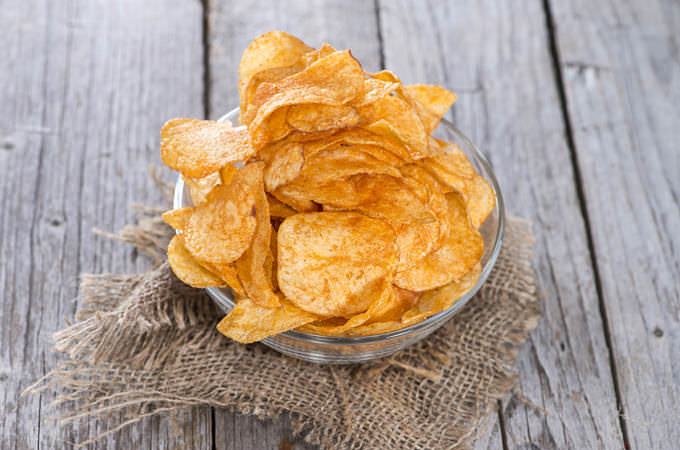 Fat makes things taste good. It's an unfortunate fact of life that fried foods are so bad for you, but it's one that we must face sooner or later, either because we have become fat from eating them or because our heart is begging us to stop with the fried chicken, already.
Whether you have sworn off fried foods for your health or for your waistline, trying to find acceptable alternatives to your fried favorites can be a sad revelation that there's no such thing as an acceptable alternative.
Until now, that is. We've compiled some tried-and-true healthy homemade substitutes for some of the most popular fried dishes on the planet. They probably won't befriend your palate as readily as the real deals, but they can provide you with a little fix to get your mind off a nasty craving.
1. Potato Chips
Ah, the potato chip. This crispy, salty snack is wildly popular, to the tune of $6 billion in annual retail sales in the U.S. alone. In fact, it takes 65,000 full-time potato chip industry employees to ensure that we have access to potato chips at a moment's notice.
A single potato chip has 10 calories, with a one-serving bag of them containing almost 300. That's a lot of calories, considering an entire medium-sized potato has only 110. So what can you eat with your turkey sandwich instead?
Well, it's not hard to make delicious, crispy potato rounds, and in this case, you may find you like these crispy little critters even better than the greasy, fried version.
Wash a pound of baking potatoes and, with the peels still on, slice them into rounds about 1/16 inch thick. A mandolin or food processor slicing blade can help keep the slices uniform in thickness.
Brush a baking sheet with ½ tablespoon of extra-virgin olive oil and rub a clove of garlic over the surface. Lay out the potato slices, sprinkle them with salt and pepper, and bake them for seven to 10 minutes at 350 degrees. Rotate the pan and bake for another 10 to 15 minutes. Flip the potato slices over and bake them for five more minutes. Let them cool on paper towels and enjoy them warm, or store them in an airtight container.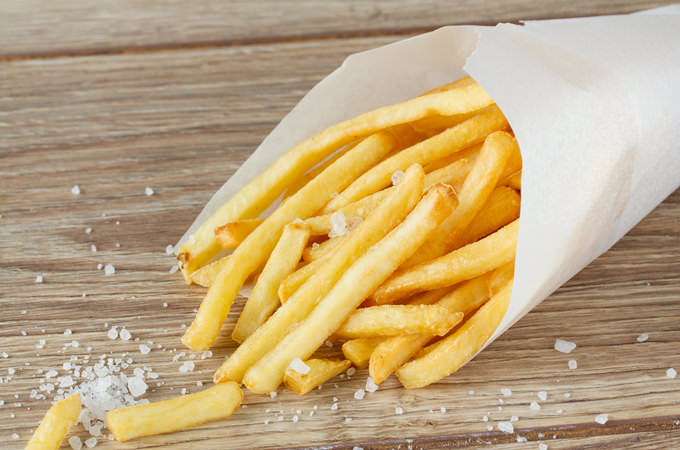 2. French Fries
There's something about frying up a mess of potatoes that makes people very happy.
Almost 30 percent of all the potatoes grown in the U.S. end up as frozen French fries, and 80 percent of households in England purchase at least one bag of frozen fries every year.
Unfortunately, a medium order of French fries from McDonald's contains 390 calories and 19 grams of fat, and making them yourself at home in the deep fryer isn't much better.
Next time you're craving French fries with your burger, bake up a batch of these oven fries. Crisp on the outside and soft on the inside, they'll still give you a little taste of the old days when you didn't think twice about supersizing an order of fries.
Spray a cooling rack with nonstick cooking spray and set it on top of a baking pan lined with paper towels. In a large bowl, combine 1/3 cup of canola oil, 1-1/2 teaspoon each of garlic salt and freshly ground pepper and a scant teaspoon of kosher salt.
Cut two large russet potatoes into French fry-like strips and toss them into the seasoning mixture, coating them well. Lay the fries out on the rack and slide them (still on top of the pan with paper towels) into the oven. Bake for 35 minutes or until golden brown, turning them every ten minutes.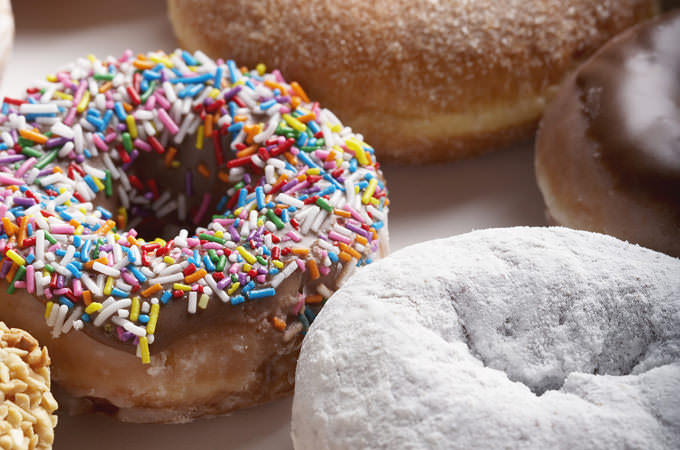 3. Doughnuts
Okay, there's really no substitute for gooey, warm, deep-fried doughnuts. Over 10 billion doughnuts are consumed every year in the U.S., and in the next five years, Krispy Kreme expects to double the number of stores they have in the U.K.
The world adores doughnuts.
Unfortunately, a single classic glazed doughnut has about 250 calories and 13 grams of fat, while a chocolate-iced doughnut with cream filling will set you back about 400 calories and an incredible 17 grams of fat.
So what on earth can act as a stand-in for a real, fried doughnut? Fluffy, light baked cinnamon doughnut balls, of course, with only 50 calories and 3 grams of fat per ball.
Cream together 1/3 cup of margarine with one cup of sugar. Add a beaten egg, ½ cup of skim milk, 1-1/2 cups of flour, 1-1/2 teaspoon of baking powder, ½ teaspoon of salt and ¼ teaspoon of nutmeg. Mix well and spoon the mixture into greased mini muffin tins, about half full. Bake at 375 degrees for 15 minutes.
Melt a few tablespoons of butter and put it in a spray bottle. Lightly spray the doughnut balls with the butter, and roll them in a mixture of ½ cup of sugar and two tablespoons of cinnamon.
These are best eaten warm with a cup of coffee on the side, just like real doughnuts.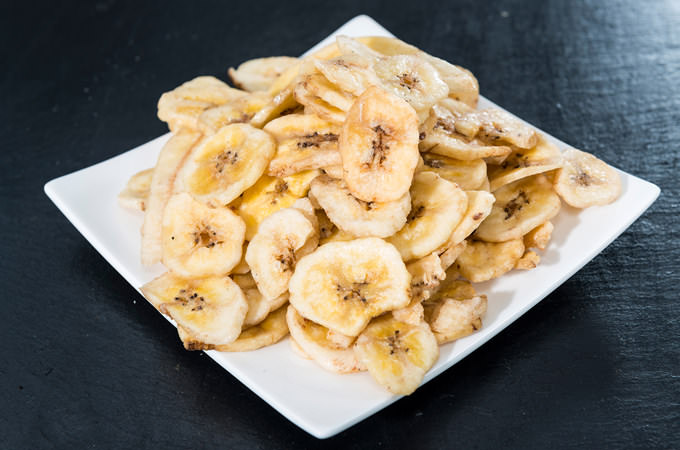 4. Banana Chips
Did you know that banana chips, those sweet, crispy little slices of heaven, are fried? It's true, and the calories and fat they contain will tell you so.
A half-cup of banana chips, which is roughly 15 chips, has 170 calories and 10 grams of fat, eight of which are saturated. They also contain a lot of added sugar and preservatives. Oh, and most have "banana flavoring" listed in the ingredients.
You can still get your banana chip fix without having to pull an extra shift at the gym to compensate. These homemade, baked chips are as crunchy and sweet as the real deal, but they have just 105 calories and less than one gram of fat per sliced banana (about 30 chips.)
Choose bananas that are ripe, with a few brown spots but no bruises. Slice the bananas to a thickness of 1/8-inch. Dip the slices in orange juice to prevent them from turning brown as they bake. Lay out the slices on a baking sheet sprayed with nonstick cooking spray and, if you wish, sprinkle them with a little kosher salt and a tiny pinch of sugar.
Bake them at 200 degrees for one to three hours, depending on how crispy you want them. Turn the slices over halfway through baking. Let the chips cool completely and store them in the cupboard in an airtight container.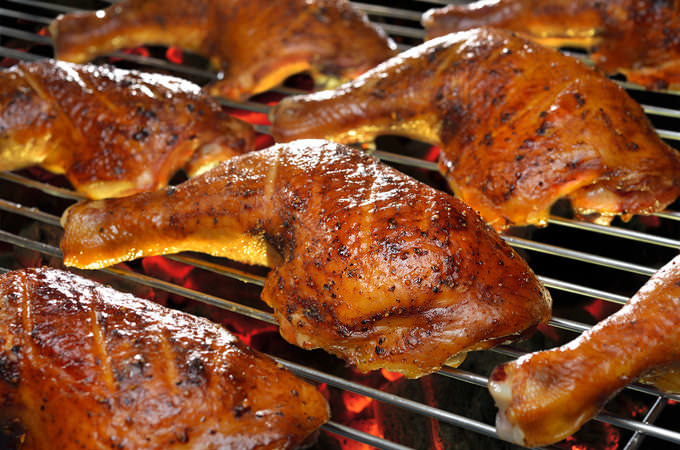 5. Fried Chicken
Fried chicken is so good it can be eaten fresh out of the fryer or straight from the fridge the next day. Unfortunately, fried chicken isn't the best meal choice when you're watching your weight or trying to improve your health.
A fried chicken breast has 320 calories and 14 grams of fat, as well as 1130 milligrams of sodium. And who eats just one piece of fried chicken? Or foregoes the creamy, buttery mashed potatoes with gravy?
While there's no way to replicate the crisp texture of the fried skin when you bake chicken, you can get pretty close to the flavor of fried chicken with only 142 calories and 3 grams of fat per breast.
Melt 1/3 cup of butter or margarine in a glass baking dish in the oven. In a shallow dish, combine ¼ cup flour, a teaspoon each of salt and paprika and ¼ teaspoon pepper. Wash three pounds of chicken parts and pat them dry with paper towels. Coat the pieces in the flour mixture and arrange them, skin side down, on top of the butter in the baking dish. Bake at 425 degrees for a half hour, turn the pieces over, and bake for another 15 minutes.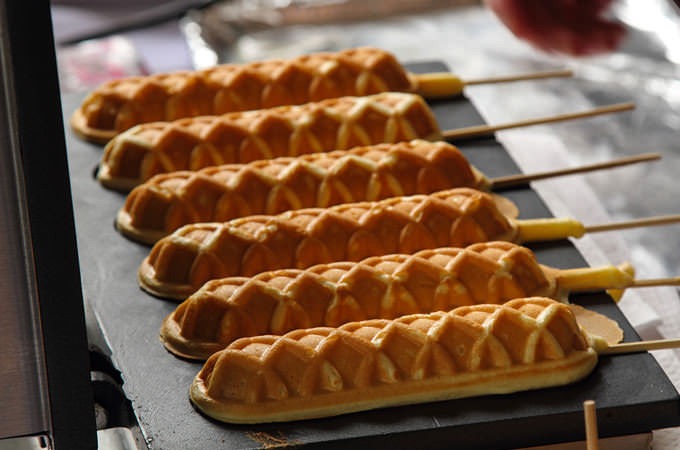 6. Corn Dogs
Whether you prefer circus corn dogs, fair corn dogs or the frozen kind you can cook up yourself at home and eat while pretending you're at the fair or the circus, corn dogs are strictly off-limits for dieters and the health conscious.
A corn dog is a hot dog impaled on a stick, dipped in a cornbread batter and deep-fried to a dark, golden brown until it's crisp and steamy.
Dipped in mustard or ketchup and eaten like a Popsicle, corn dogs are fun for kids and adored by adults.
There is, of course, a downside to corn dogs, and that would be the 359 calories and 23 grams of fat in a single large corn dog.
But that doesn't mean you have to do away with all things corn dog. You can make your own crispy, baked corn dog bites for just 57 calories and 3 grams of fat apiece.
Combine one cup of fine-ground corn meal, ½ cup of flour, ½ teaspoon of salt, two teaspoons of sugar, one tablespoon of baking powder and ½ teaspoon of baking soda. Add a cup of buttermilk, ½ cup of low-fat milk and an egg, and stir until the mixture is just combined. Gently add ¼ cup of melted butter until it's incorporated into the mix.
Let the mixture sit for a few minutes while you spray mini muffin tins with nonstick cooking spray. Fill the tins half full of the cornmeal mixture and pop a 1-inch piece of hot dog into the center of each tin. Bake at 425 degrees for 12 minutes, or until they're golden brown.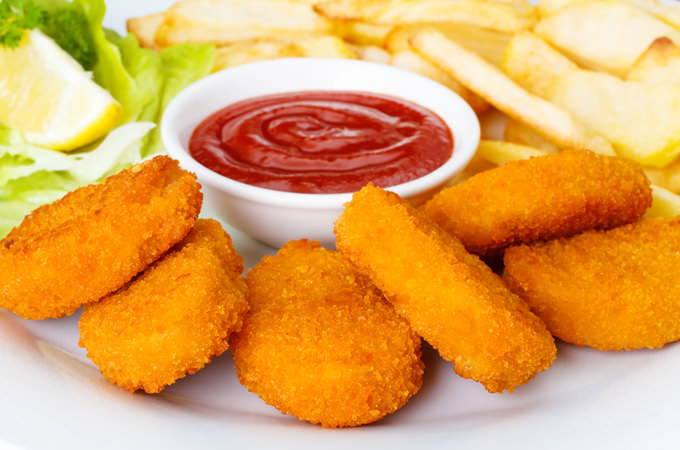 7. Chicken Nuggets
Usually given top billing on children's menus because they don't require utensils and can be dipped in nearly anything you can imagine, chicken nuggets are most often comprised of inedible chicken parts, ground and molded into dinosaurs, airplanes or amoeba-shaped blobs, and then battered and deep fried.
Chicken nuggets aren't good for you any way you look at them, with almost 500 calories and 30 grams of fat for ten bite-sized nuggets, not to mention the inferior meat, bones, beaks and the multitude of additives and chemicals that give them flavor and preserve them.
By comparison, a small, skinless baked whole chicken has about 700 calories.
Next time you're craving chicken nuggets, just say no to the processed and deep fried variety and make your own juicy nuggets out of a real-life chicken. Six of these delicious nuggets contain just 164 calories and only 4 grams of fat.
Cut two large, skinless chicken breasts into bite-sized chunks. Toss the pieces with two teaspoons of olive oil to thoroughly coat them. Combine 6 tablespoons of seasoned bread crumbs with two tablespoons each of panko breadcrumbs and grated parmesan.
Dip each chicken piece in the mixture. Lay out the chicken pieces on a lightly sprayed cooking sheet and lightly spray the chicken, too. Bake at 425 degrees for 10 minutes, then turn them over and bake another 5 minutes.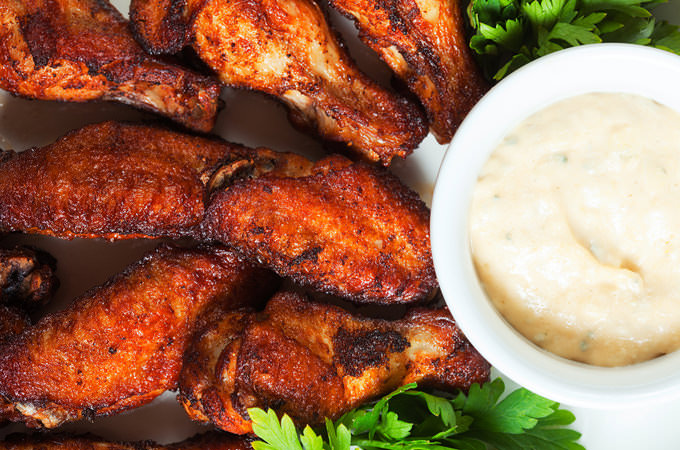 8. Chicken Wings
Swimming in barbecue or hot sauce, nothing says "party time!" like a big bowl of tangy, sweet or spicy fried chicken wings.
The crisp, chewy skin, the juicy dark meat and the thick, finger-licking sauce combine to make chicken wings a multi-billion dollar industry that typically serves 1.23 billion wings over Super Bowl weekend alone.
Next time your friends invite you out for a few beers and a plate of wings, remember that one chicken wing has about 125 calories, and nobody eats just one chicken wing.
Add to that the beer, and you'll be wearing your running shoes for 24/7 trying to work it all off.
Instead, invite the crew over for some homemade baked wings, still hot and delicious, still swimming in tangy sauce, but not in calories. Each of these wings has about 80 calories.
Marinate three pounds of chicken wings for a half hour in two tablespoons of hot sauce, ¼ cup of white vinegar, two tablespoons of oregano, four teaspoons of paprika and one tablespoon each of garlic powder and chili powder.
Lay the wings out on a baking sheet and broil about 8 inches away from the heat for 10 minutes. Turn the wings over and broil another 10 minutes. Toss the wings with two tablespoons of warm hot sauce and serve with reduced-fat blue cheese dressing and celery sticks.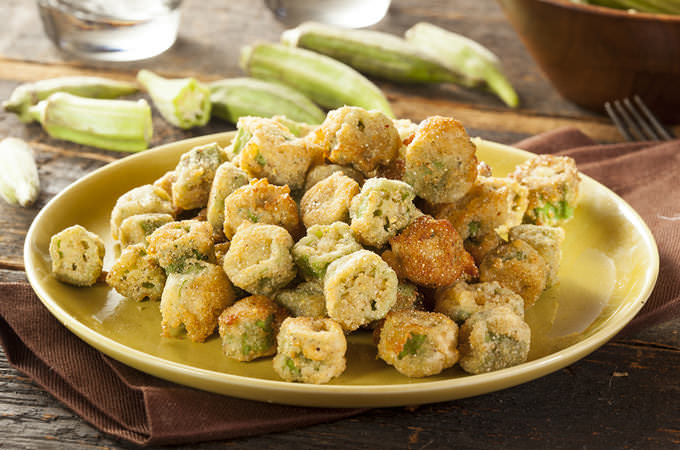 9. Fried Okra
Okra by nature is a strange, slimy pod-like vegetable most notable for its appearance in gumbo.
But slice that okra into little rounds and coat it in flour and cornmeal and deep fry it, and you have a crunchy, salty snack, minus the slime, that eats like popcorn and tastes like heaven.
You would have to eat six and a half cups of raw okra to get the calories contained in a half cup of the fried variety, which has 190 calories and five grams of fat.
Southerners take heart, though. You can still enjoy your "fried" okra with this crisp, spicy baked okra that has only 95 calories and two grams of fat per half-cup serving.
Microwave 16 ounces of frozen, cut okra for eight minutes. Lay the okra on a paper towel for ten minutes to drain and cool.
Spray the okra with butter-flavored cooking spray and toss it in a plastic zipper bag filled with ¼ cup each of yellow cornmeal and panko breadcrumbs, ¼ teaspoon each of red pepper flakes and black pepper, and ½ teaspoon of garlic salt. Lay the okra on a baking rack atop a baking sheet and put them in a 375 degree oven for 20 minutes or until they're golden and crispy.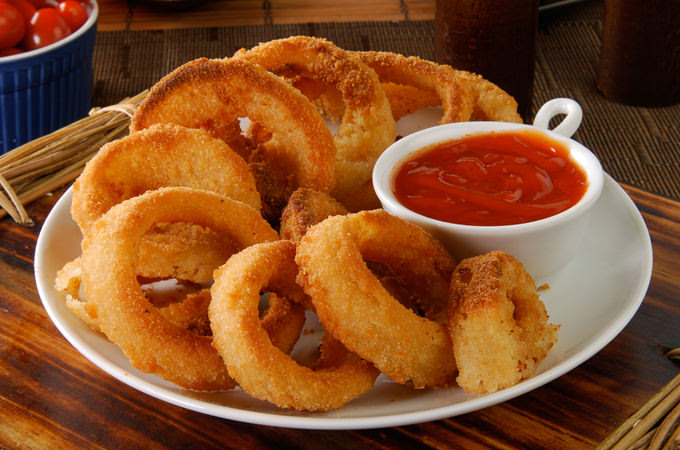 10. Onion Rings
Another favorite side for a thick, juicy burger, onion rings are a seriously poor choice for your waistline and your health. Ten of these crisp, golden rings have 300 calories and 16 grams of fat, seven of which are saturated.
It's fun and easy to make your own delicious baked onion rings, which have all the flavor of the fried version and let you nosh to your heart's content without overdoing the fat and calories.
In fact, you can eat almost three times as many baked onion rings for the same number of calories.
Slice two large, sweet onions into ½-inch thick slices and separate them into individual rings. Soak the rings in buttermilk for at least three hours and drain them. Put them in a large plastic zipper bag with ½ cup of flour and ½ teaspoon each of salt and freshly ground black pepper. Shake the bag to coat the rings.
Whisk together four egg whites, two tablespoons of milk and a pinch of cayenne. Dip each ring into the egg mixture and then drop them into a bowl of panko breadcrumbs to thoroughly coat. Lay the rings on a baking sheet and spray them lightly with cooking spray. Bake for 12 minutes, or until they're crispy and golden brown.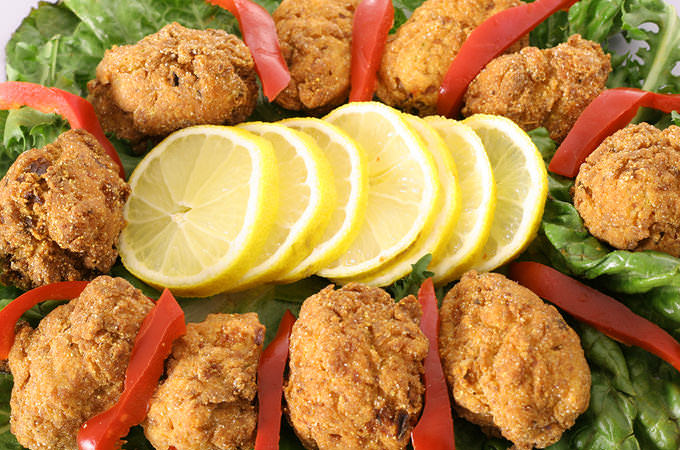 11. Hush Puppies
Golden spheres of fried cornmeal batter, crispy on the outside and soft and warm on the inside, hush puppies are a delicious, traditional accoutrement to fried catfish. They also have close to 100 calories and eight grams of fat apiece.
Baked hush puppies are fast and simple to make, and they're almost as delicious and crispy as the deep fried version, but have a mere 36 calories and two grams of fat per puppy.
Combine 2/3 cup of yellow cornmeal, 1/3 cup of flour, 1 teaspoon baking powder, one teaspoon salt and a teaspoon of freshly ground pepper in a bowl and set it aside. In another bowl, combine ½ cup of finely chopped onion, 1/3 cup of milk, two lightly beaten eggs and two tablespoons of melted butter.
Add the wet mixture to the dry mixture slowly, and mix it lightly until it's moist. Don't over-stir! Drop a tablespoon of the batter into greased mini muffin tins and bake for ten minutes at 450 degrees, until the edges are brown and the hush puppies are firm to the touch.
Serve the hush puppies warm with a plate full of breaded, grilled fish for a healthy take on an old comfort food favorite.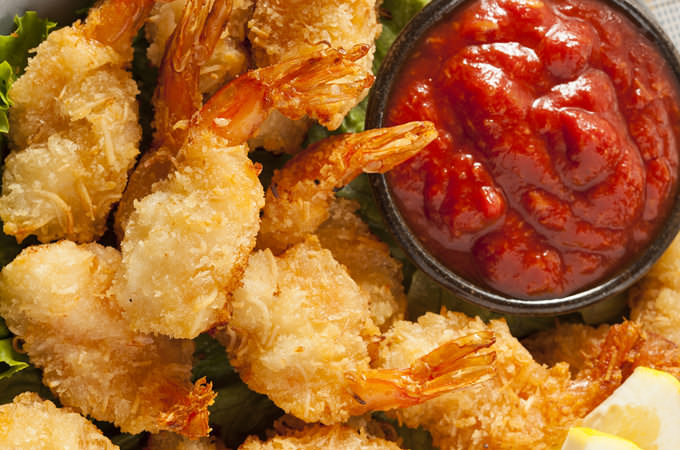 12. Fried Shrimp
Let's be honest here. Fried shrimp is tasty and all, but shrimp in just about any form is the food of the gods. Four large shrimp have a paltry 24 calories and less than one gram of fat.
But fry those babies up, and you're looking at about 100 calories and four grams of fat. As a side dish, that's not so bad. But if you're planning on digging into a plate full of fried shrimp, the calories and fat can add up quickly.
There are endless ways to eat shrimp, but if you are particularly drawn to the breaded and fried version, you can get pretty close to the taste and texture with this recipe, which weighs in at only 35 calories per shrimp.
Wash and peel one pound of large shrimp. In a small bowl, mix two eggs with two tablespoons of skim milk and a tablespoon of lemon juice. Put ¼ cup of flour on a plate. In a shallow bowl, combine 1/3 cup of seasoned breadcrumbs, ½ teaspoon of garlic powder and 1/8 teaspoon of cayenne pepper.
Hold each shrimp by its tail, coat it with flour and shake off the excess. Dip it in the egg mixture, and coat it with the breadcrumb mixture. Place the shrimp on a greased baking sheet and bake at 425 degrees for five minutes. Move the oven rack five inches away from the upper heating element, and broil the shrimp for two minutes. Dip in cocktail sauce or sprinkle with lemon juice, and enjoy.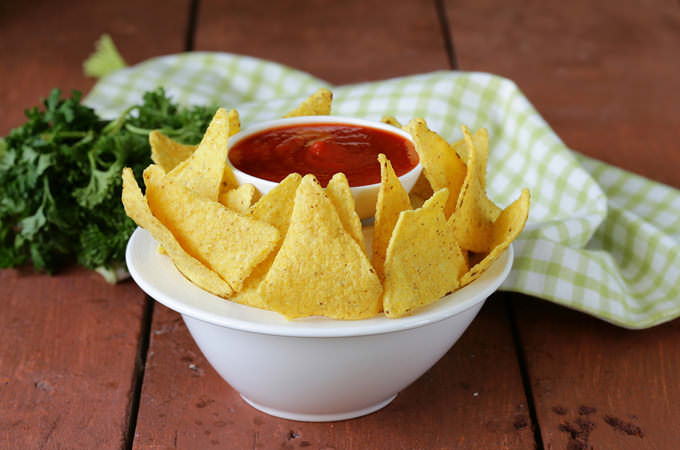 13. Tortilla Chips
Tortilla chips, also known as corn chips, are similar to potato chips in that once you start eating them, it's hard to stop, especially if salsa or cheese dip is involved. But a measly ten chips have 150 calories and 7 grams of fat.
Next time you think about breaking out the chips and dip, try this classy, delicious pita bread alternative that will probably permanently replace the classic version in your house.
Not only are these chips easy and inexpensive to make, they're also stronger, healthier and more filling than store bought corn chips and have just 8 calories apiece.
Purchase whole-wheat pita bread, split each round horizontally, and brush olive oil on the rough sides. Cut each round into eight triangles and sprinkle them with salt, freshly ground black pepper and Parmesan cheese. Bake them at 350 degrees for about 10 minutes, or until they're golden brown and crisp.
You can experiment with different seasonings, such as garlic powder and rosemary, chili powder or an Italian seasoning mix. These chips are highly versatile, delicious both warm and cooled, and can be served with everything from hummus or pate to guacamole or homemade black bean salsa. Store your pita chips at room temperature in an airtight container.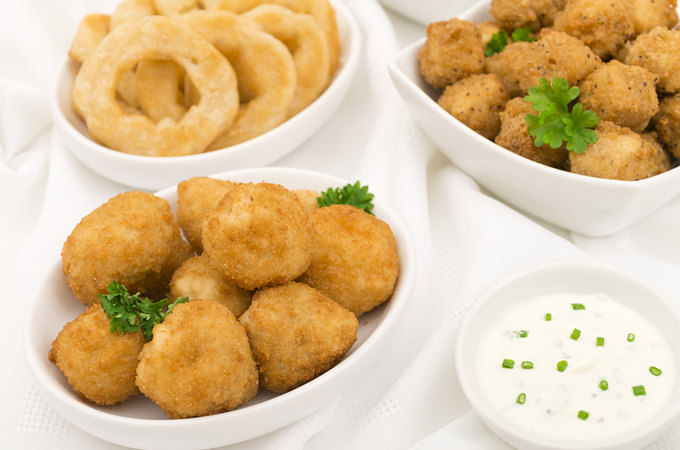 14. Fried Breaded Mushrooms
If you're a mushroom lover, you probably swoon whenever you think about fried mushrooms, which are juicy, chewy and crispy bites of sheer joy.
But the joy soon turns to body fat to the tune of 200 calories and 13 grams of fat in just five small fried mushrooms.
Consider that five raw mushrooms have only 20 calories and zero fat, and you see why frying these little fungi is probably not the best way to consume them.
Still, the difference between a breaded, fried mushroom and a raw mushroom is about the same as the difference between a ho-hum raw apple and a slice of sweet, warm apple pie a la mode.
There's really no comparison. That's why you should try this recipe for stuffed mushrooms that will give you all of the taste and texture of fried mushrooms with only 50 calories and one gram of fat per mushroom.
Combine ½ cup each of breadcrumbs and grated Parmesan or Romano cheese, two chopped garlic cloves, two tablespoons each of parsley and olive oil, a teaspoon of salt and a smattering of freshly ground black pepper. Wash and remove the stems from 28 large white mushrooms. Drizzle a tablespoon of olive oil onto a baking sheet. Spoon the filling into the mushroom caps, drizzle them with olive oil and bake at 350 degrees for 25 minutes.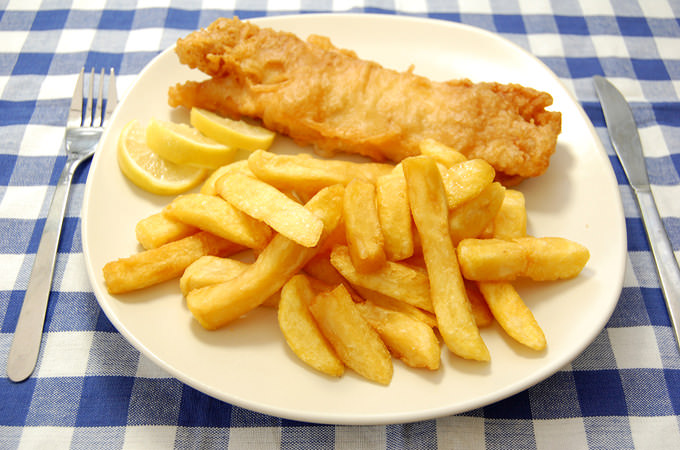 15. Fish & Chips
Fish and chips make for some tasty eating, but one serving contains 730 calories, 33 grams of fat and 64 grams of carbohydrates, making this dish one of the biggest diet fails ever concocted.
Fish is incredibly beneficial to your health, but deep-frying it and serving it with hush puppies and French fries is akin to washing down your vitamins with a supersized chocolate shake.
Go ahead and indulge in fish and chips once a year. The rest of the time, get your fish and chips fix with this heart-healthy, crisp and wholly delicious alternative.
Position two oven racks in the top and bottom third of the oven, preheated to 425 degrees. You'll need two baking pans: One coated with nonstick spray and the other with a baking rack, also coated with spray, on top.
Cut 1-1/2 pounds of russet potatoes into thick wedges. Rinse them in cold water, pat dry and toss with four teaspoons of canola oil and sprinkle them with Cajun seasoning. Spread them on the baking sheet without the rack and put them in the lower portion of the oven. Bake for about 40 minutes, turning them every ten minutes.
While the potatoes start baking, grind two cups of cornflakes and put them in a bowl. In another bowl, combine ½ cup of flour and a teaspoon each of salt and Cajun seasoning. In yet another bowl, beat two egg whites. Dredge the fish in the flour, shake off the excess, dip it in the egg whites and coat with cornflakes. Place the fish on the baking rack atop the baking pan, and slide it onto the top rack. Bake for about 20 minutes, or until the fish is opaque and crispy.