Love to eat chicken? So do we. It's one of the healthiest things you can eat. Here is 10 delicious healthy recipes you can make using chicken.
1. Fabulous Fajitas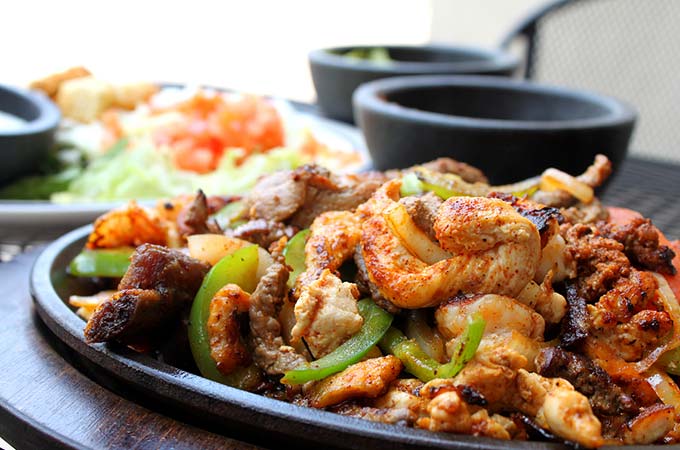 Marinate four chicken breasts in the juice of six freshly squeezed limes, a dash of light soy sauce, and a bottle of dark beer. Keep in the refrigerator for a minimum of four hours. The longer you marinate the chicken, the more flavorful it will be. Add sliced onions, bell peppers, mushrooms and hot peppers.
Cook in a crock pot on low for four to six hours for a no-fuss meal. Alternatively, you can throw the mixture on the grill. Serve the fajita filling on warm tortillas with fresh salsa and creamy guacamole. Be sure to keep a bottle of hot sauce handy.
2. Hawaiian Grilled Chicken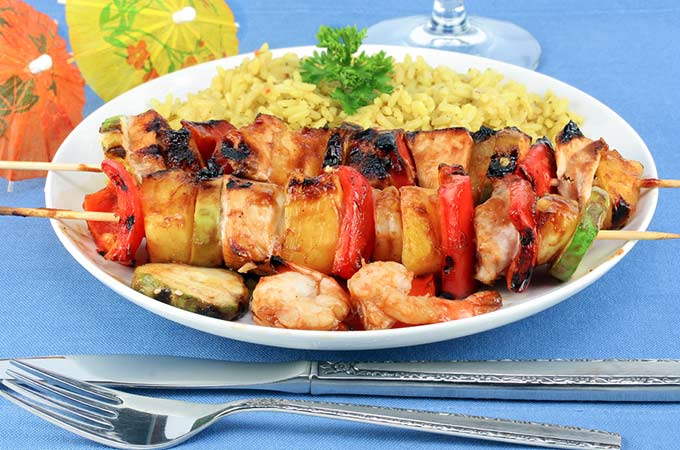 Even the busiest cooks can enjoy this recipe – it requires very little preparation or cleanup. Use pantry staples to whip up a marinade of pineapple juice, tomato sauce, low sodium soy sauce and ginger. If you prefer a spicier marinade, add a pinch of cayenne pepper. Marinate chicken breasts for at least two hours before grilling.
If possible, prepare the night before and refrigerate the chicken in the marinade overnight to maximize flavor. Serve with a garden salad or brown rice for a simple, heart-healthy meal. If you want to turn up the Hawaiian flair, garnish the chicken with pineapple rings.
3. Coconut Chicken Fingers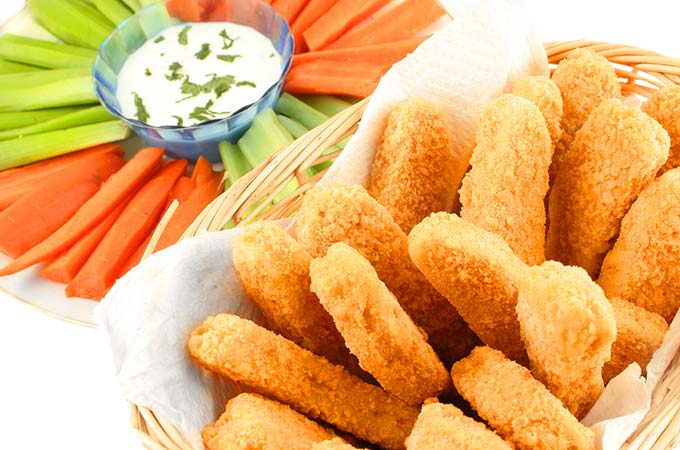 Try this healthy chicken finger recipe that kids will love. Cut chicken into long pieces, dip in milk and coat with a mixture of panko, coconut flakes and salt. Keep in mind that you only need about ¼ teaspoon of salt per pound of chicken fingers – limiting salt use will reduce your family's sodium intake. Fry in heart-healthy coconut oil until done.
Typically, you will need to fry for about three minutes on each side. Serve with your favorite dipping sauce, carrot sticks and cucumber slices. Marinara serves as a flavorful dipping sauce without the extra fat of dairy-based sauces.
4. Chipotle Lime Chicken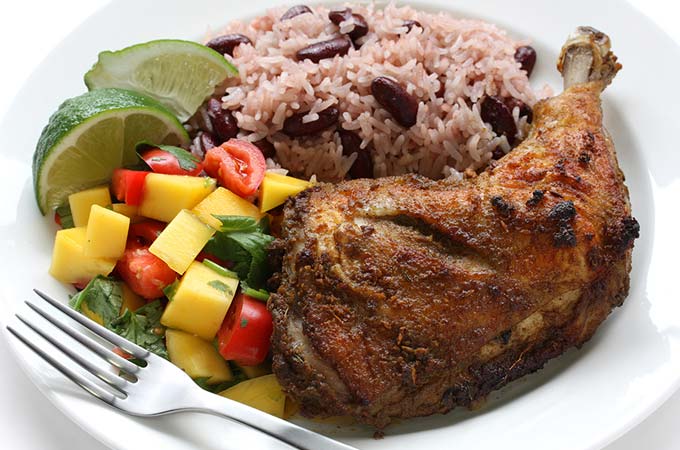 Truly a match made in heaven: fresh, tangy lime juice paired with smoky, spicy chipotle powder will turn an ordinary piece of chicken into a delightful dish. The sweet and spicy flavors of this healthy chicken entrée will please even your pickiest guest or family member. Mix together lime juice and a small amount of chipotle powder.
Place the chicken in a shallow glass dish and pour the marinade over the chicken. Let marinade rest for four hours or longer before grilling. You can serve chipotle lime chicken with tortillas and salsa or let it stand on its own with a side of Spanish rice.
5. Chicken Tacos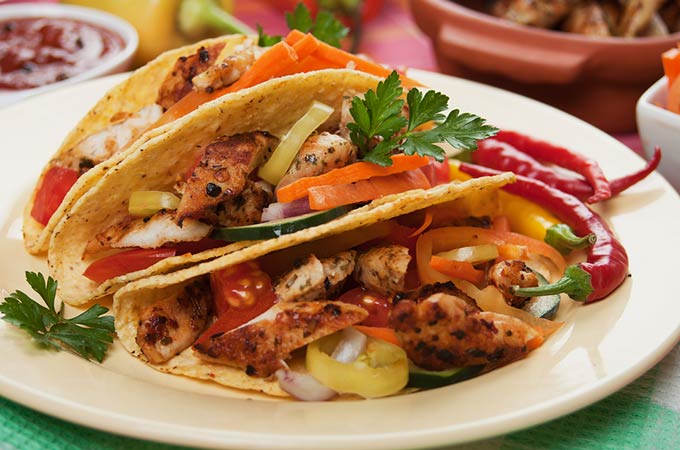 Use boiled, shredded chicken breasts to create a hearty and spicy main dish the whole family will love. Mix the chicken with a package of taco seasoning and serve buffet-style with your family's favorite fixings. If you're running short on preparation time, your slow cooker can be your best friend.
Simply place the chicken breasts in the slow cooker, mix the taco seasoning with 1 cup of water and ¼ cup of white vinegar and pour the taco seasoning mixture over the chicken. Let the chicken cook for about four hours on low and then shred with a pair of forks for a ready-to-eat dinner.
6. Strawberry Glazed Chicken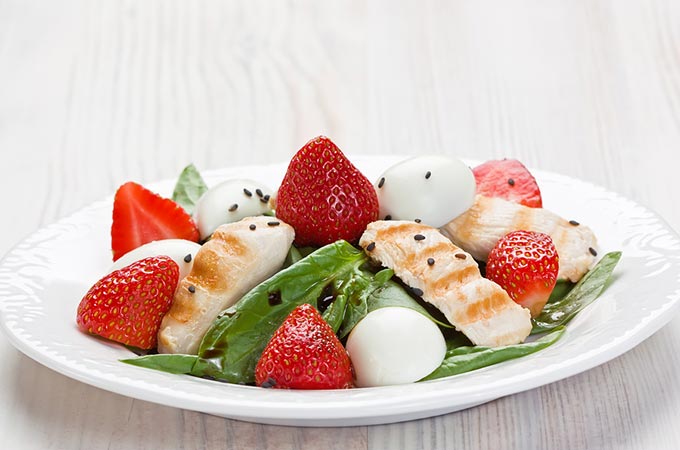 Your favorite strawberry vinegar  – actually, any flavored vinegar will do – can serve as a flavorful glaze to turn ordinary chicken into an extraordinary entrée. Place 1 cup of the flavored vinegar into a saucepan and heat the vinegar, uncovered, over low heat. Stir occasionally until it reduces to half its original volume.
The vinegar will then become a thick glaze. Drizzle the glaze over freshly grilled chicken breasts. This dish pairs well with green vegetables such as steamed asparagus or broccoli. It also works well with rice pilaf, a warm loaf of French bread or even a simple garden salad.
7. Parmesan Crusted Chicken
Parmesan crusted chicken is a tasty, hearty dish that guests will think you slaved over. Fortunately, this entree comes together quickly and is simple enough to prepare any night of the week. Dip chicken breasts in buttermilk, followed by a mixture of Parmesan cheese, bread crumbs, olive oil, fresh parsley and grated ginger.
Bake in the oven at 350 degrees for 40 minutes or until the crust turns a golden brown color. Enjoy this entrée with roasted potatoes and a fresh salad. Parmesan crusted chicken pairs exceptionally well with a blush or sweet red wine; however, you can also enjoy a chilled white wine with this meal.
8. Honey Dijon Chicken Salad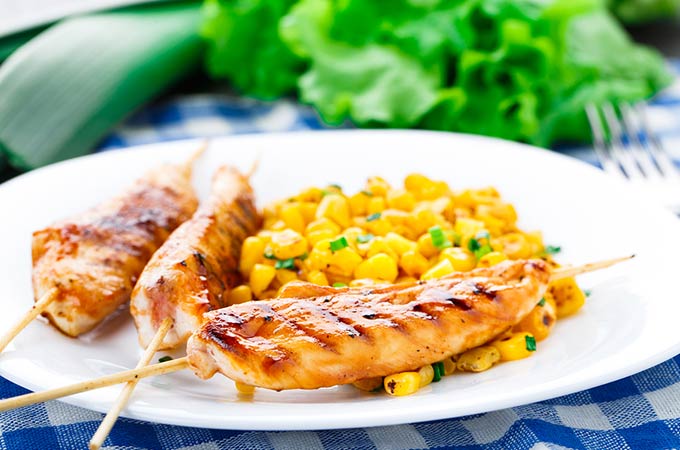 Marinate chicken in a sweet and tangy concoction of spicy Dijon mustard, locally produced honey and freshly chopped garlic. Ideally, you should refrigerate and marinate the chicken overnight for the heartiest flavor; however, an hour will do if you are pressed for time.
Cook the chicken in the marinade over medium heat until browned on both sides. If you don't want to stand over the stove, bake the chicken and marinade in a glass dish at about 350 degrees for 40 to 45 minutes. Cut the chicken into bite-sized pieces and serve over an assortment of fresh salad greens, bell peppers and red onions.
9. Greek Gyros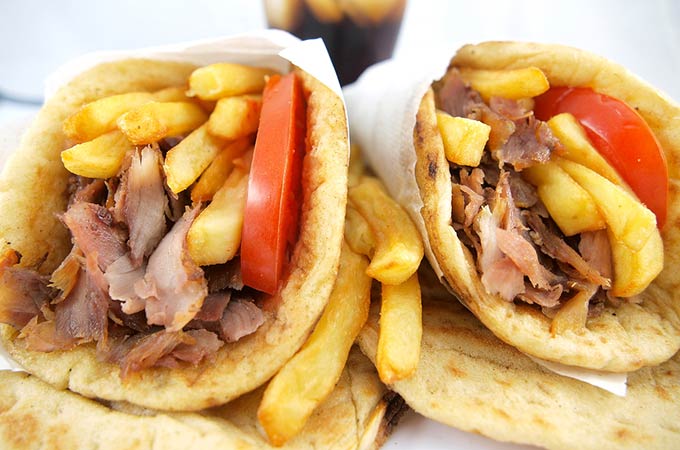 Take your favorite Greek menu item and swap out the lamb for some chicken. Cook skinless, boneless chicken breasts in a handful of freshly chopped oregano and garlic. For a zesty kick, add a dash of red chili pepper. If you don't want to heat up the kitchen, you can also opt to grill the chicken breasts until tender.
Transfer the chicken to a cutting board and cut into long, thin strips resembling sliced lamb. Serve with warm pita bread, tomatoes, onions and shredded lettuce. Top with crumbled feta and homemade yogurt-based Tzatziki sauce. Try pairing your chicken gyros with hummus and freshly cut vegetables.
10. Cilantro Curry Chicken Salad
Keep this mixture on hand for quick weekday lunches. Mix cooked, chopped chicken with Greek yogurt, curry powder, the leaves from a bunch of cilantro, a chopped scallion and freshly pressed ginger. You can serve this spicy chicken salad rolled in flatbread with homemade raita – a mixture of milk, yogurt, finely diced cucumbers and carrots.
Try with a side of fragrant basmati rice for a taste that evokes the flavors of northern India. For a low-carb choice, serve cilantro curry chicken salad in lettuce leaves. You can cover the chicken salad with diced cucumbers and tomatoes to offset the spiciness of the curry powder.