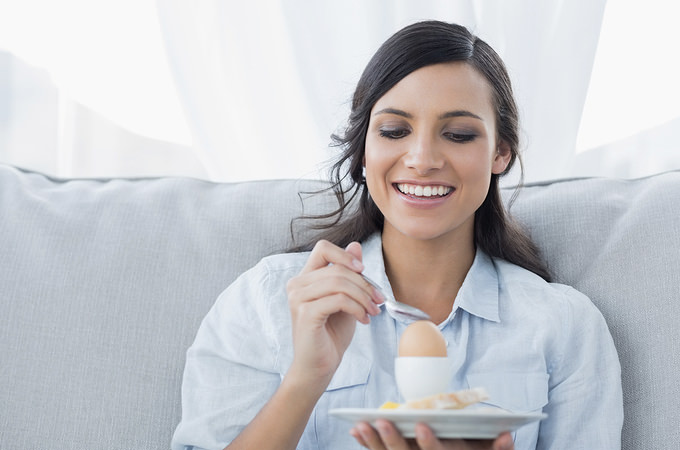 Before you run out the door without a good breakfast, consider that you're setting yourself up for overeating later in the day. A nutritious breakfast can give you energy, ward off hunger, and set you up for making healthy food choices all day long.
Your morning meal should be a balanced combination of protein and fiber, and fortunately, there are plenty of options to choose from. Here's a list of the best breakfast foods to sustain your energy and manage your weight.
1. Eggs
With 13 essential nutrients, about 6 grams of protein and a mere 70 calories each, eggs are an ideal way to start off your day.
Eggs are rich in several of the B-vitamins, particularly biotin. These vitamins are necessary for protecting your nervous system against damage caused by toxins in your body.
Eggs have been demonized over the last few decades. Health experts believed eggs were bad for heart health, and so this breakfast staple became the subject of intense criticism and scrutiny.
Fortunately, several health organizations came forward to refute the claims and tout the benefits of eggs.
There's no arguing that egg yolks are high in cholesterol, but the medical community now understands that dietary cholesterol is different from blood cholesterol, which increases the risk of stroke and heart attack.
Consuming eggs will have no effect on your overall blood cholesterol level. While this is true, eggs have not been cleared for unlimited consumption. Therefore, you should have no more than four eggs a week if you want to maintain good health.
Try them poached on whole grain toast, scrambled with a little goat cheese or in a hearty omelet filled with spinach, tomatoes and cheese.
If you are running late and don't have time for a sit-down breakfast, you can hard boil a few for a convenient, on-the-go breakfast bite that comes pre-wrapped in its own adorable little package.