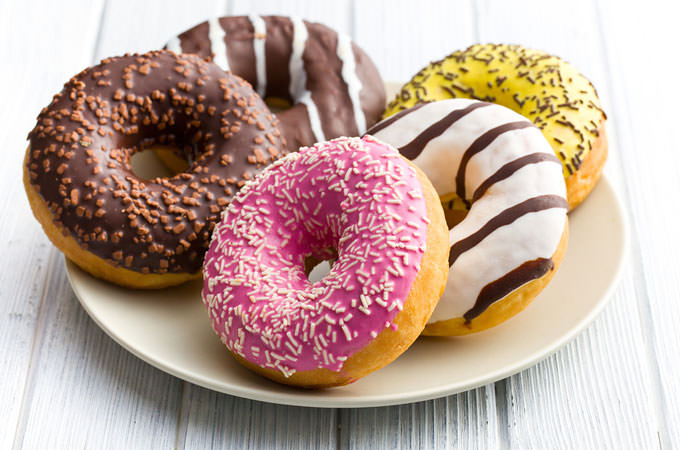 Breakfast truly is the most important meal of the day. When you begin your day eating a nutrient deficient, high calorie breakfast, you are setting yourself up for failure. A good breakfast includes healthy protein, complex carbohydrates, and a small amount of healthy fats.
You need a breakfast that will maintain a stable blood sugar. This will keep you feeling satiated until you are ready for your next meal. To avoid feeling sluggish throughout the day, stay away from the following foods for breakfast.
1. Donuts
The sugar-starch combination in your morning donut packs a double health punch, raising your blood sugar precariously and setting you up for a long day of hunger-induced binge eating and nap-inducing blood sugar crashes.
In addition, the donut is notoriously fat laden, making you feel drowsy and lethargic instead of energetic and ready for the workday.
Finally, while no one considers donuts healthy, you may not realize exactly how many calories and how much fat are in just one. For example, an apple fritter has approximately 450 calories and 17 grams of fat, most of which is saturated.
Although donuts taste delicious, you set yourself up to have a really bad day if you only eat donuts for breakfast.
Try having a breakfast that includes protein, such as some granola and Greek yogurt. The energy and staying power you will get from eating a breakfast that has protein in it will make you wish you realized this sooner.
When you need to have energy for a busy day ahead, donuts do not have any staying power. Sure, you'll have a lot of energy for about 30 minutes, but soon your sugar high will come crashing down and you will feel horrible.
Save the donuts for a time when you want a little treat and don't go for the donuts at breakfast time.