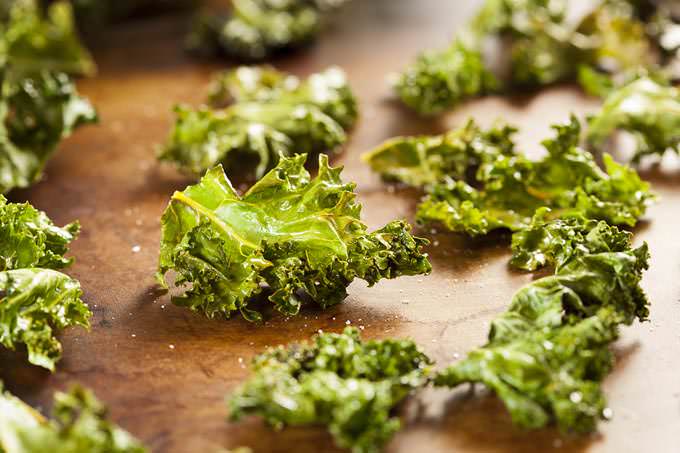 The new year offers a new start. If your resolution this year is to improve your health through your diet, cutting out fatty, sugary foods should be your first priority. This doesn't mean you have to spend the year feeling unsatisfied and deprived, though.
There are a number of high-nutrient foods that can satisfy cravings for sweet, salty snacks while improving your physical and mental health, increasing your energy level and preventing common diseases and cancers. These ten satisfying, super-food snacks will help you start your new year the right way.
1. Kale chips
Kale isn't just hot right now, it's scorching. Dubbed the "Queen of Greens" by kale enthusiasts and health professionals alike, this dark leafy green is in the same family as cruciferous veggies like Brussels sprouts, cabbage and broccoli.
One cup of chopped kale has only 33 calories, but it's packed with nutrients.
In fact, that same cup of chopped kale provides 9 percent of the RDA for calcium, 206 percent of the RDA for Vitamin A, 134 percent of the RDA for Vitamin C, and an astonishing 684 percent of the RDA for Vitamin K.
These serious antioxidants protect your skin from aging, reduce your cancer risk and promote bone health.
Kale also contains important minerals, including copper, potassium, iron and phosphorous, as well as lutein for eye health, and a lot of fiber to help lower cholesterol and reduce the risk of heart disease.
And because kale is effective at helping the blood clot, those who are on Warfarin and other anticoagulants should check with their doctor before starting a kale habit.
Raw kale might not suit everyone's taste, but bake it into crispy, salty chips and you'll be surprised at its complex flavor. Choose kale that is firm and dark green or purple and that has a strong stem. Smaller kale leaves are milder and more tender than the larger ones.
To bake up a batch of crispy kale chips, preheat your oven to 275 degrees and remove the large stems from the kale. Wash and dry the leaves, and cut them into 2-inch pieces. Toss the leaves with two tablespoons of olive oil and sprinkle them with sea salt. Bake for ten minutes, then turn the leaves and bake for ten more minutes, until they're crispy.
For a spicier version of crispy baked kale, toss it with a mixture of 1/3 teaspoon each of toasted ground cumin and paprika and 1/8 teaspoon of cayenne pepper.