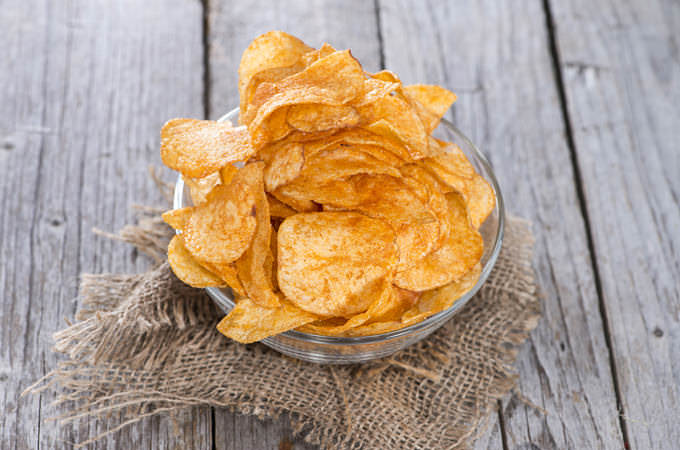 Fat makes things taste good. It's an unfortunate fact of life that fried foods are so bad for you, but it's one that we must face sooner or later, either because we have become fat from eating them or because our heart is begging us to stop with the fried chicken, already.
Whether you have sworn off fried foods for your health or for your waistline, trying to find acceptable alternatives to your fried favorites can be a sad revelation that there's no such thing as an acceptable alternative.
Until now, that is. We've compiled some tried-and-true healthy homemade substitutes for some of the most popular fried dishes on the planet. They probably won't befriend your palate as readily as the real deals, but they can provide you with a little fix to get your mind off a nasty craving.
1. Potato Chips
Ah, the potato chip. This crispy, salty snack is wildly popular, to the tune of $6 billion in annual retail sales in the U.S. alone. In fact, it takes 65,000 full-time potato chip industry employees to ensure that we have access to potato chips at a moment's notice.
A single potato chip has 10 calories, with a one-serving bag of them containing almost 300. That's a lot of calories, considering an entire medium-sized potato has only 110. So what can you eat with your turkey sandwich instead?
Well, it's not hard to make delicious, crispy potato rounds, and in this case, you may find you like these crispy little critters even better than the greasy, fried version.
Wash a pound of baking potatoes and, with the peels still on, slice them into rounds about 1/16 inch thick. A mandolin or food processor slicing blade can help keep the slices uniform in thickness.
Brush a baking sheet with ½ tablespoon of extra-virgin olive oil and rub a clove of garlic over the surface. Lay out the potato slices, sprinkle them with salt and pepper, and bake them for seven to 10 minutes at 350 degrees. Rotate the pan and bake for another 10 to 15 minutes. Flip the potato slices over and bake them for five more minutes. Let them cool on paper towels and enjoy them warm, or store them in an airtight container.