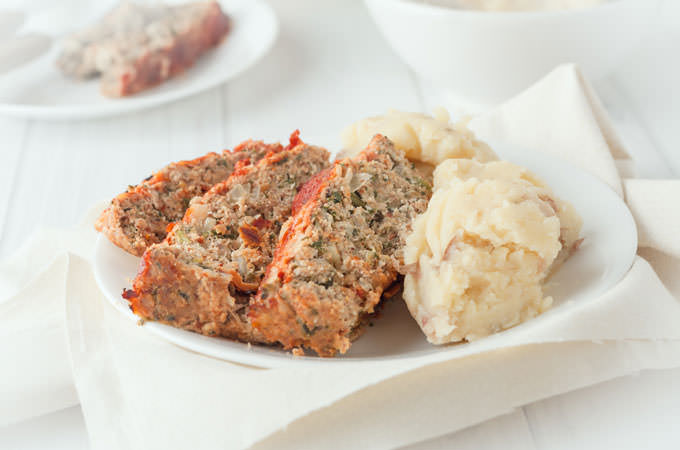 People often say that they're usually disappointed with turkey meatloaves, and that they find them to be pretty lousy. But as things usually go, it all depends on the recipe. If you've been looking for an amazing turkey meatloaf recipe, look no further than this one!
This delish turkey and quinoa meatloaf has amazing texture, perfect for lazy fall dinners with friends and family. Another great thing about it – you don't need a whole day to make it, and it's really not difficult at all.
Ingredients
To make this meal, you'll need:
¼ cup of quinoa
½ cup of water,
1 teaspoon of olive oil
1 chopped small onion
1 chopped large clove of garlic
1 package of ground turkey
1 tablespoon of tomato sauce
2 teaspoons of Worcestershire sauce
1 egg
1 ½ teaspoons of salt
1 teaspoon of ground black pepper
2 tablespoons of brown sugar
1 teaspoon of water
Preparation
Heat a saucepan on high, and bring the quinoa and water to a boil. Then reduce the heat to medium-low, cover the pan, and let the mix simmer until the quinoa is tender and the water is absorbed (this will take about 15-20 minutes). Set the pan aside so the mix cools.
Preheat an oven to 35- degrees F. Get a skillet, and heat the olive oil in it over medium heat before stirring in the onion.
Cook the onion until it turned translucent and soft (which will take about 5 minutes).
Add the garlic to the skillet and cook the mix for one more minute, before setting it aside so it cools down.
Take a large bowl and stir in the turkey, cooked quinoa, onions, tomato sauce, hot sauce, 2 tablespoons of Worcestershire sauce, egg, salt, and pepper.
Then take a small bowl and mix the brown sugar, 2 teaspoons of Worcestershire sauce, and 1 teaspoon of water in it. When the paste is well mixed, rub it over the meatloaf. Put the meatloaf in the preheated oven and bake it until it's no longer pink in the center (this will take about 50 minutes). Let it cool for 10 minutes before slicing it.