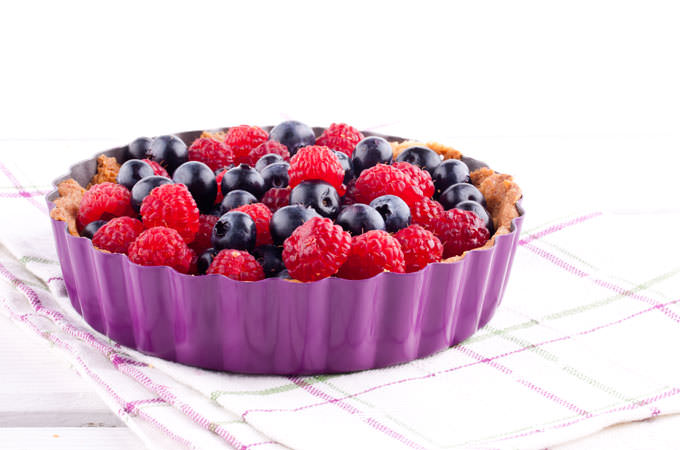 With the 4th of July just a few days away, it would be wise to start preparing a feast.
And no matter what you go for as a main dish, you can be certain that you'll need a great dessert to top everything else off.
That's why we've decided to bring you this delicious raw berry tart recipe. It's easy to prepare, the ingredients won't cost you a lot, and – the most important thing – it will look great and have an amazing taste!
Getting Into The Theme
This raw berry tart consists of three parts. You'll have to make the crust, the filling, and the topping separately, but once it's finished, it will represent those whole theme of Independence Day!
Ingredients
1½ of medjool dates
½ cup of almonds
½ cup of groats
1½ cups of coconut cream
2 tablespoons of maple syrup
1 teaspoon of vanilla extract
2 cups of raspberries
2 cups of blueberries
A pinch of cardamom
Preparation
Process the almonds and groats for a minute, then add dates and cardamom and continue processing until the mixture can be rolled into a ball.
Press the mixture into the tart pan. Make sure it's smooth and evenly spread, then leave it in the freezer for 30 minutes.
Process coconut cream, vanilla extract and maple syrup in the food processor for about 30 seconds. When the filling is done, pour it over the crust and return it to the freezer for another hour.
Once the filling is able to support the berries, arrange raspberries and blueberries on the top of the tart in a circular manner.
Now the tart is complete. Let it cool in the fridge until you're ready to slice it up and serve it.
Happy Independence Day!