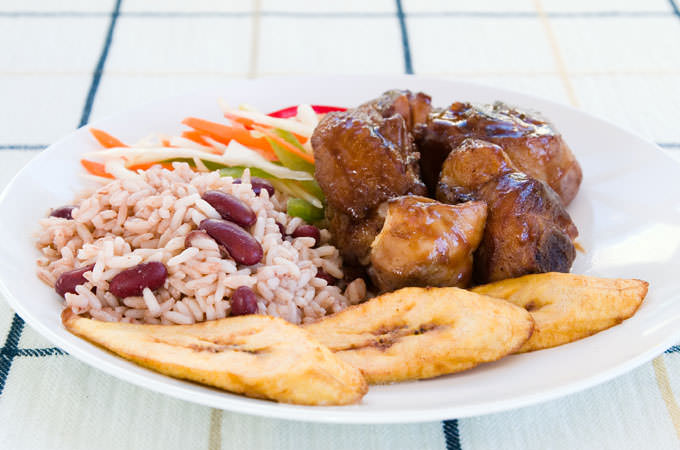 When you're feeling down and low, and a cold wind starts to mess up your easy summer way of thinking, it's time to make summer come back even for just one dinner. And there's no better way of achieving that than by making this Jamaican-inspired jerky chicken dish. Rich in taste, spicy, and magnificently tasty – this dish is truly unforgettable since the first bite. Good luck in fighting the urge to prepare it every day because you'll need it.
Ingredients
To make this quick and easy but scrumptious dish, you'll need:
1 teaspoon of finely chopped onion
3 tablespoons of brown sugar
4 tablespoons of soy sauce
4 tablespoons of red wine vinegar
2 teaspoons of chopped fresh thyme
1 teaspoon of sesame oil
3 chopped cloves of garlic
½ teaspoon of ground allspice
1 sliced habanero pepper
4 skinless and boneless chicken breast halves cut into 1-inch strips
Preparation
Combine the onion, brown sugar, soy sauce, vinegar, thyme, sesame oil, allspice, garlic, and habanero pepper in a blender's container, and process everything until the mass is smooth.
Take the chicken meat and place it into a large resalable bag, before pouring ¾ of the sauce in it. Squeeze out excess air and seal the bag, and let it stand so the chicken marinades for at least one hour.
Preheat your oven's broiler, remove the chicken from the bag, and discard the marinade. Broil the chicken for 10-15 minutes. Don't forget to turn the meat over once so it evenly cooks. Heat the remaining sauce in a small pan and pour it over the chicken before you serve.