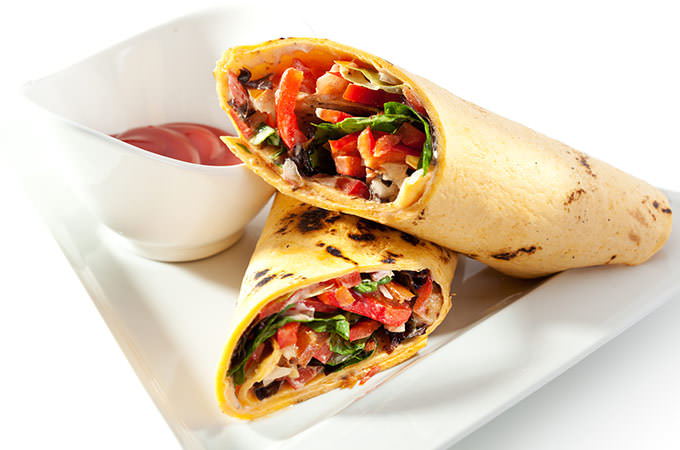 We dare you to find something tastier and easier to make than these amazing double-bean burritos! When your energy is low, but you hunger is high, we recommend sacrificing 20 minutes of your life to make something as delicious as this easy snack, which is also an amazing option for vegetarians.
Ingredients
To make double-bean burritos, you'll need:
1 bag of boil-in-bag brown rice
1 cup of chunky bottled salsa
1 can of black beans, rinsed and drained
6 flour tortillas
6 tablespoons of bean dip
¾ cup of shredded Monterey Jack cheese with jalapeño peppers
1 peeled avocado, cut into 6 slices
12 cilantro sprigs
6 lime wedges, if you wish
Preparation
Cook the rice according to directions stamped on the package, and add salt and fat to your liking.
While the rice is cooking, combine the salsa and black beans in a small saucepan and cook the mix over medium heat for 5 minutes, or until everything is thoroughly heated.
Stack the tortillas, and then wrap the tortilla stack in damp paper towels. Microwave the stack at high for 25 seconds, or until the tortillas are warm.
Spread 1 tablespoon of bean dip over each tortilla, and top each one of them with ¼ cup of rice, 1/3 cup of black bean mixture, 2 tablespoons of cheese, 1 avocado slice, and 2 cilantro sprigs.
When everything is layered, just roll up the tortillas, and you've got a deliciously healthy snack! If you wish, you can serve the burritos with lime wedges, to truly experience the taste explosion.