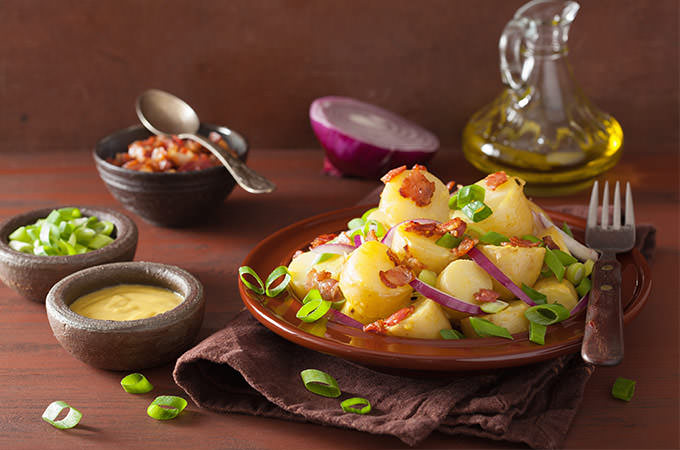 There's nothing like a good summer salad to ease your hunger, but not in that overwhelming feeling of fullness. Just because it's so light, easy and quick to make, and divinely delicious in its simplicity, this lemony grilled potato salad deserves to be crowned for one of the best summer salad that our taste buds ever got the chance to taste.
Ingredients
To make this scrumptious summer salad, you'll need:
2 pounds of small Yukon gold potatoes
3 tablespoons of extra-virgin olive oil, divided
1 small red onion, cut into medium thick slices
1 red bell pepper, cut in half and seeded
3 tablespoons of chopped fresh basil
2 tablespoons of chopped fresh chives
3 tablespoons of fresh lemon juice
1 teaspoon of capers
¾ teaspoon of salt
¼ teaspoon of freshly ground black pepper
Preparation
Preheat the grill to medium-high heat, and take a large saucepan. Place the potatoes in the pan and cover them with water.
Bring the potato water to a boil, then reduce the heat, and let it simmer for 15 minutes, or until the potatoes are tender.
Drain the cooked potatoes and cool them slightly. Cut the potatoes in half, and combine them with 2 teaspoons of oil in a large bowl.
Toss the ingredients in the bowl really well, so the oil coats the potatoes. Brush the onion and bell pepper evenly with 1 teaspoon of oil, and then place these ingredients along with the potatoes on a grill rack (previously coated with cooking spray). Grill the veggies for 5 minutes on each side, or until they're tender.
Remove the vegetables from the grill, and let them cool slightly. Cut the bell pepper into thin strips, and the onion slices into quarters. Combine the remaining 2 tablespoons of olive oil, basil, and remaining ingredients in a large bowl, all while stirring well with a whisk. Add the vegetables to the bowl, and again, toss well to coat.