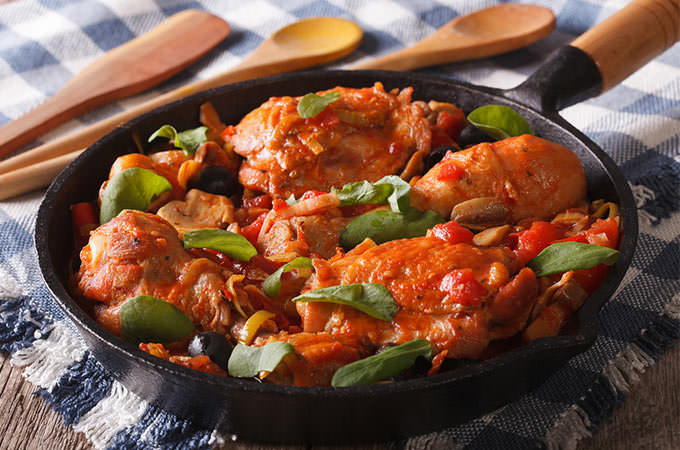 This simple dish proves the old saying that you don't need a plate full of "fancy" to have an outstanding meal.
That's not a saying? Well, it should be!
There isn't a better way to honor this healthy, old-school Italian dish, than perhaps by enjoying it with your whole heart and stomach!
Ingredients
To make chicken puttanesca, you'll need:
1 ½ tablespoons of olive oil, divided
4 skinless, boneless chicken breast cutlets
¼ cup of minced fresh onion
3 minced garlic cloves
2 cups of chopped tomato
¼ cup of sliced green olives
1 tablespoon of chopped fresh oregano
1 ½ teaspoons of capers, chopped
½ teaspoon of crushed red pepper
½ teaspoon of salt
1 canned anchovy fillet, chopped
Preparation
Heat a large non-stick skillet over medium-high heat, add 1 tablespoon of oil to it, and swirl to coat the skillet with oil. Add the chicken to the pan and cook it for 5 minutes (or until it's done), while turning it over once.
Remove the chicken from the pan, but make sure to keep it warm. Add the remaining 1 ½ teaspoons of oil, onion, and garlic to the pan, and sauté everything for 1 minute.
Add the tomato, oregano, capers, red peppers, salt, and anchovy to the pan, bring everything to a simmer, and let it cook for 9 minutes (or until the sauce has slightly thickened) while stirring occasionally. Serve the chicken with the tomato mixture.