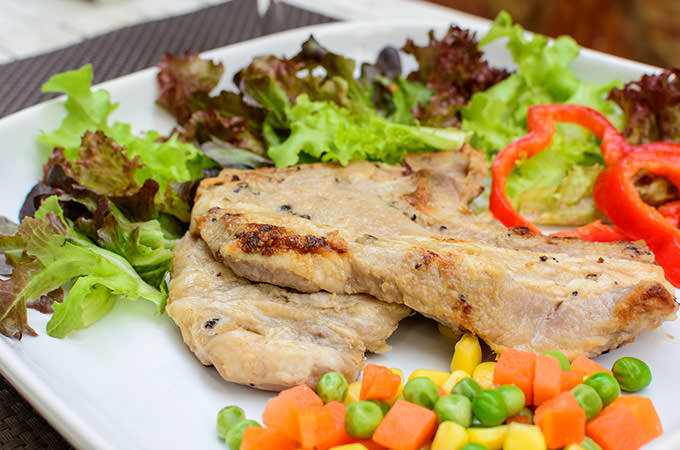 For all of you who had enough of winter and can't wait for spring, we've got something truly special. This amazing pork medallion and spring succotash recipe will make any gloomy, cold day a bit brighter. It's quick and easy to make, and it's absolutely delicious. If you prefer, you can substitute the pork with chicken or fish, and still keep that recognizable, easy flavor of the meal.
Ingredients
To make this dish, you'll need:
1 pork tenderloin, trimmed and cut into 1-inch thick slices
2 teaspoons of minced fresh garlic
2 teaspoons of minced fresh rosemary
2/4 teaspoons of kosher salt, divided
1 ½ tablespoons of extra-virgin oil, divided
½ cup of dry white wine
½ cup of unsalted chicken stock
1 tablespoons of unsalted butter
1 cup of halved and thinly sliced carrots
½ cup of finely diced white onion
3 tablespoons of water
½ teaspoons of freshly ground black pepper
2 cups of frozen shelled edamame, thawed
and ¼ cup of chopped green onions (both white and green parts)
Preparation
Pound the pork slices gently to ½-inch thick medallions with a meat mallet. Combine the garlic, rosemary, and ½ teaspoon of salt in a small bowl.
Heat a large skillet over medium heat, and add 1 tablespoons of oil to it. Swirl the oil to coat the pan, and add the pork to it.
Cook the pork for 4 minutes without turning it over, then turn it once, and cook it for 3 more minutes. Remove the meat from the pan, and keep it warm. Return the pan to medium heat and add the garlic mixture to the pan.
Sauce the mix for 1 minute or until it's fragrant, add the wine and stock, and cook for 30 seconds. Scrape the pan to loosen browned bits, remove the pan from the heat, and stir in the butter. Heat a large nonstick skillet over medium heat and add the remaining oil, and swirl to coat. Add the carrot and the white onion, and cook the mix for 2 minutes.
Stir in the remaining ¼ teaspoon of salt, 3 tablespoons of water, and pepper. Cover the pan and let it cook for 2 minutes or until the carrot is crisp-tender. Stir in the edamame and the green onions, cook the mixture for 3 more minutes, and divided it among 4 plates. Top each serving with pork and sauce.