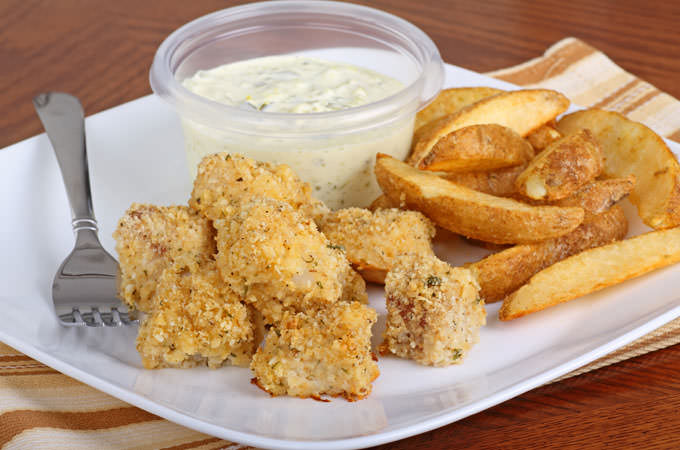 Perfect for everyday meals and casual parties alike, these wonderfully crispy fish nuggets will complete any occasion with a marvelous dose of health and deliciousness. They're light, yet still nutritious, and they're loved by kids due to their taste. There will be no need for tricking your children into eating something healthy with these fun bites!
Ingredients
To make crispy fish nuggets with tartar sauce, you'll need:
1 cup of Japanese breadcrumbs
1 tablespoon of chopped fresh thyme
½ teaspoon of kosher salt
½ teaspoon of freshly ground black pepper
½ cup of all-purpose flour
2 tablespoons of water
1 large egg, lightly beaten
1 ½ pounds of cod fillets, cut into 1-inch pieces
½ cup of canola mayonnaise
1 tablespoon of chopped dill pickle
2 teaspoons of chopped fresh flat-leaf parsley
½ teaspoon of fresh lemon juice
½ teaspoon of Dijon mustard
Preparation
Preheat the oven to 400 degrees C, and heat a large skillet over medium high heat. Add breadcrumbs and thyme to the pan, cook them for 2 minutes (or until they've turned golden brown), while shaking the pan frequently.
Get three shallow dishes and combine the mix from the pan with salt and pepper in a one shallow dish, the flour in the second shallow dish, and 2 tablespoons of water and egg in the third one.
Dredge the fish in the flour mix before dipping it in the egg micture, and finally dredging it into the breadcrumb mix.
Get a baking pan, and place a baking sheet into it, and coat the sheet with cooking spray.
Arrange the fish in a single layer on the sheet and bake them at 400 degrees C for 12 minutes (or until they've reached a desired degree of doneness).
Combine the mayonnaise and the remaining ingredients in a bowl to make the tartar sauce, and serve the sauce along with the nuggets.