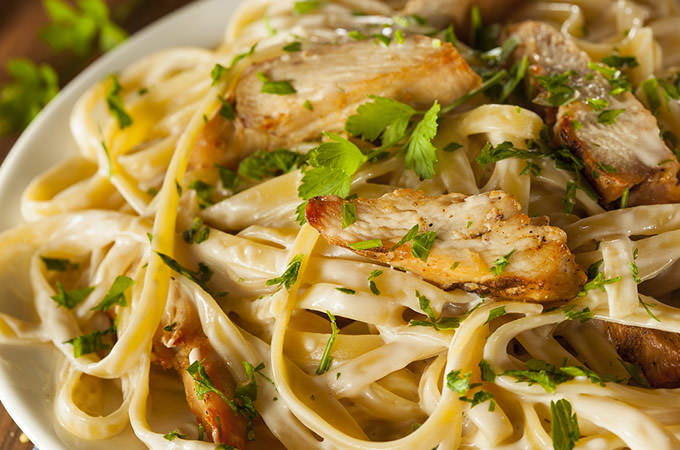 Valentine's Day is upon us and you should start thinking about that perfect dinner you are (or at least should be) planning for your better half. Here we have 3 sexy dinner proposals for your romantic evening that will get the juices flowing (if you know what I mean).
These are all quick, healthy, and most importantly – mouthwatering.
Let's get crackin'!
Creamy And Dreamy Chicken Pasta
You can't go wrong with creamy pasta and delicious chicken.
INGREDIENTS:
1 chicken breast cut into strips
6 oz heavy cream
1 egg yolk
1/2 cup grated Parmesan cheese
Nutmeg
Salt
Black pepper
Chopped parsley
8 oz fettuccine
HOW TO MAKE IT: In a hot skillet, grill the chicken strips until golden brown. Then, in the same skillet, add the heavy cream, and cook over low heat. Add the egg yolk, parmesan cheese, and chicken. Season with nutmeg, salt and pepper. For the finale, cook the fettuccine, drain and transfer to skillet. Finish with chopped parsley.
Brown Butter Scallops With Parmesan Risotto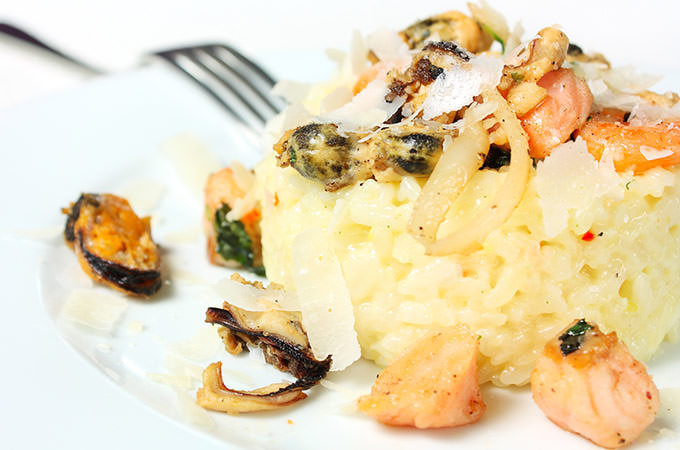 Get ready for some white wine and garlic combo that will boost up those libidos like there's no tomorrow!
INGREDIENTS:
1 tablespoon butter
1 minced clove garlic or 1 minced shallot (or both)
1 cup arborio rice
1/2 cup white wine
3-ish cups of chicken broth
1/2 cup Parmesan cheese
1 tablespoon grapeseed oil
1 pound jumbo scallops
1 tablespoon olive oil
1 clove minced garlic
4 cups spinach or kale
3 tablespoons butter
HOW TO MAKE IT: First is Risotto. In a large non-stick skillet melt butter over medium heat, then add garlic or shallots. Saute until soft. Add the rice, stir and add the white wine. Then add the broth and parmesan and stir until the rice is soft and creamy.
Seared Scallops and Sautéed Spinach are next. Heat oil in nonstick skillet and add scallops sprinkled with salt. After 2-3 minutes, flip each scallop over. Now heat the oil over medium low heat, add the garlic and stir to get the flavor going. Add the spinach or kale and mix until wilted.
Now put a few tablespoons of butter in a clean skillet over medium heat and stir. When golden and foamy, remove from heat and transfer it to a heat-proof bowl to cool slightly, then drizzle over the risotto, scallops, and greens.
Lemony Roasted Cod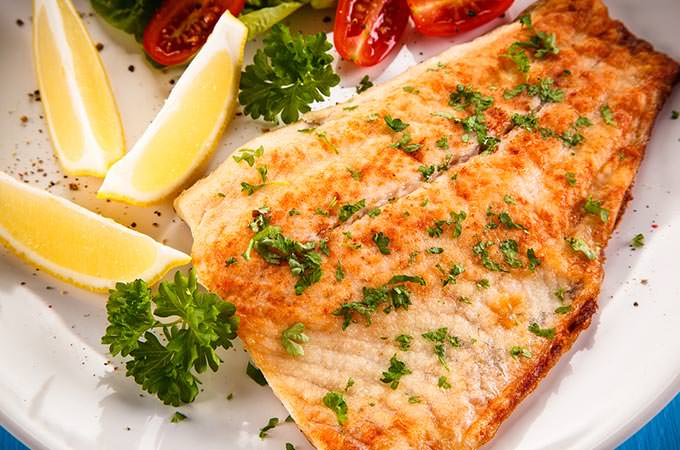 Light meat is always a good choice for a frisky Valentine's Day dinner.
INGREDIENTS:
3 small lemons
8 sprig fresh thyme
20 pimento-stuffed green olives
18 small red potatoes
6 cod fillets
2 tbsp. olive oil
1/2 tsp. Sea Salt
1/4 tsp. Freshly ground pepper
HOW TO MAKE IT: Preheat oven to 450 degrees F, and put lemon slices in a single layer on a large roasting pan. Put thyme sprigs over the lemons, sprinkle with olives.
Cut all the potatoes in half and boil them until soft.
Place fillets on lemon, drizzle some olive oil over both meat and potatoes, and season to taste. Put everything in the oven, reduce temperature to 325 degrees F, and roast until fish is cooked through (typically around 25 minutes), then serve fish with potatoes and olives.