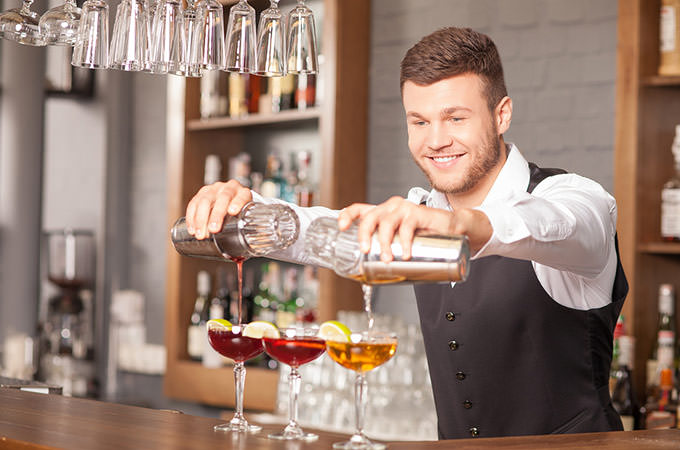 If you're a fan of all things liquid, this one's for you!
Some popular alcoholic beverages we consume today were not as well-known or consumed at all prior to getting popularized by some of our favorite movies and shows.
Last time we talked about The Dude and his White Russian, about Marilyn Monroe and her Manhattan, Scrubs' JD and his Appletini… Today, we are continuing our interesting list of 15 famous drinks made famous by movie & TV characters.
8. Vodka Martini
Even if you're not a fan of the 007 movies, you probably know that James Bond, spy extraordinaire, likes his vodka martini shaken – not stirred. The world's most famous spy has been this drink's biggest fan for decades, and all those who secretly wish to be him can be spotted at bars, drinking a vodka martini.
Made with:
vodka
ice
splash of vermouth
9. Bourbon On The Rocks
Only a hand-full of movies managed to shake the core of mass audiences like The Shining. However, it's comforting to know that when the movie ends we can all let go of the horror that punched us right in our scary bone with a shot of bourbon on the rocks.
Made with:
10. Redeye
The majority of people gave at least a moment of thought to the possibility of being a proper bartender, thanks to Tom Cruise and his slick moves in Cocktail. However, only the bravest of the brave gave Redeye a chance to swirl in their mouths. This unusual drink can either cure your hangover or make it even worse.
Made with:
vodka
Bloody Mary mix
1 cold beer
1 egg
11. Sweet Vermouth
Bill Murray may be an excellent actor, but he's also quite good at making people try new drinks. Sweet Vermouth is the drink his character in Groundhog Day prefers, especially when trying to win over Rita's heart.
Made with:
vermouth
squeeze of lemon juice
ice
12. Duff Beer
Many don't know that Duff beer owes its whole existence to The Simpsons. Not only did Homer's love for the brand make it world-known, but it actually brought it into the real world. Thanks to the lovable yellow goof, you too can bask your taste buds in the simplicity that is Duff beer.
13. Suntory Whiskey
As an aging actor, Bill Murray's character in Lost In Translation was paid to endorse Suntory, a Japanese brand of whiskey. Even though the Suntory company has been producing amazing whiskeys since the 1920's, no American has even heard of it until 2003.
14. Chianti
Your choice of wine can either make or break a nice dinner. Hannibal Lecter was aware of that, so he opted for Chianti, a blood-colored wine, to go with his "human liver and fava beans" dish.
Silence Of The Lambs gave its viewers nightmares, but it also left them craving for a glass of this nice wine.
15. Chartreuse
French liqueurs are delicious, but only one of them managed to steal the show in a Quentin Tarantino's Death Proof.